26-11-07
Press review ! (part 1)
No press review since a long time which means so many things to talk about !
Whatever, now that I'm launched, it will go by itself.
As I can't decide whether I start by the new or by the former issues, let's focuse on some models highlights. Who did which editorials right after s/s 08 runway shows.
Adina Fohlin in German Vogue nov '07 by Ben Hassett, in Dansk Winter '07 by Justin Cooper and in Dazed & Confused dec '07 by Tim Gutt
Uliana Tikhova in Soma, in Mixte by Jason Kibbler and in Vogue Russia by KT Auleta
Edythe Hughes in Harper's Bazaar Spain nov'07 by Peter Koval and in Mixte by Jason Kibbler
Simona McIntyre in Flair dec'07 and in Mixte by Jason Kibbler
Katerina Smutok in V #50 by Sebastien Kim and in Deutsch by Straulino
Anzhela Turenko in Deutsch by Straulino and in Wonderland by Ben Weller
Egle Tvirbutaite in Surface by Eric Guillemain and in Flaunt by David Bellemere
Edda Petursdottir in Flaunt by Jelle Wagenaar and in Bon #12 by John Scarisbrick
Giedre Dukauskaite in Harper's Bazaar Nippon nov'07 and in Elle Nippon nov'07, in Wonderland and in Numéro
Andressa Fontana in Bon #12 by John Scarisbrick, in Dazed & Confused November '07 by Rankin, in Flair November '07 by Patric Shaw, and in V #50 by Greg Kessler
Angelika Kocheva in Flair dec '07 and in 10 winter '07
Edita Vilkeviciute in Pop winter '07 and in Vogue Paris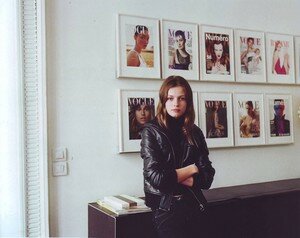 Commentaires
Poster un commentaire