01-12-07
In the mood...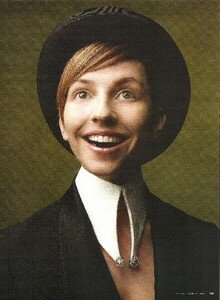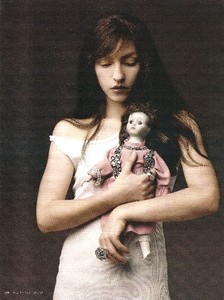 From Vanity Fair Germany,
actress Katharina Schüttler by Dieter Eikelpoth, make-up by Yasmin Heinz
In the mood for huge smiles. In the mood for expressive faces and fancy dolls. Ready for a moody december, beginning with these four pictures from Vanity Fair, German edition. If this page is not the most accurate place to find the freshest news about actresses, we couldn't not share those marvelous shots that could be an accurate introduction to what's coming next. The future is now and the past is not far away, help yourself and take what you want and bring it with you for the year to come. We'll tell you more soon and let you enjoy Dieter (who also shot model Sara Sperling with Wolfgang Joop) and Yasmin's work.
Other press news before another huge press review include the newly released Vogue Paris, disappointing for some people, exciting for some others. If it's not our favorite issue ever, you still can count us among the latters. And waiting for new Mixte to come out these days.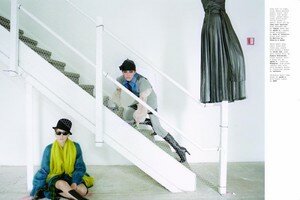 Slash, winter issue,
Pilar Solchaga, Kaela Walton and Jacquelyn by Dean Kaufman, styled by Masayo Kishi
Vogue Russia offers us a great way to end this year with more Sofi Berelidze, more Claudia Seiler and some extra Eugenia Vidal or Nastya Zhelkovskaya. And Uliana Tikhova too, after her last appearance in Mixte. Amanda Lopes is currently in Spanish Glamour, Emily Trimble on Biba cover, Maria Babikova in Muteen and so on. Pilar Solchaga, Kaela Walton and Jacquelyn are hitting Slash, winter issue. Viktoriya Sasonkina, Anna Arendshorst, Egle Tvirbutaite and Aline Zanella are in a huge issue of Please!. Fresh faces. And more to come !
Commentaires
Poster un commentaire