20-01-08
Archive
Archive. What a beautiful name. For a beautiful book. We often use the word "archives" to describe a part of our work and it always heat-up our hearts when we think of it. "Archives" means to us a fantastic, never-ending and everlasting collection of pictures, of the best ones. "Archives" sounds like eternity.
That's for the intro. We won't talk about our own archives but about a book. It's indeed all about archives, about Wendy Iles archives. Remember, we've introduced you to Wendy in some previous articles about photographer Felix Lammers and make-up artist Yasmin Heinz. She was the woman behind the fantastic work on hairdos in their fashion stories. It's big time now for her to be in the spotlight here, as her book will be released in selected stores at the end of the month.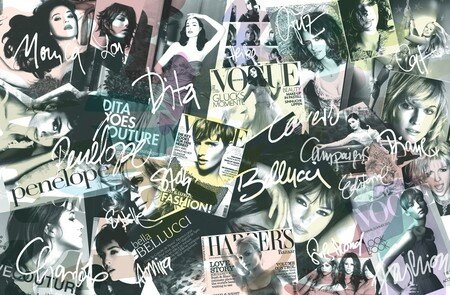 The first thing that makes us buy magazines is probably the quality and the high amount of pictures we'll find in them. Same for books. Same for everything, we simply love pictures. Pictures are telling stories and here they're telling Wendy Iles' story. All is related to hair and hair is the link between everything. Or maybe shall we say that passion for hair is the link between all the pictures in Archive and leads you from beauty in prints to the secrets behind the scenes, genesis of the magic. As a lifetime passion, it all began when Wendy was five and already attracted to everything related to hair. Without any idea of the career she had ahead of her as she worked with photographers Rankin, Ellen Von Unerth, Ruven Afandor, Paulo Roversi, Koto Bolofo... for many different magazines including Vogue. She's been involved in shots featuring models like our beloved Malgosia (Bela, if we need to precise it) and... Natalia Vodianova who's the cover-girl of archive. You can always discuss the role of hair and hairdos in an editorial and consider it as the very beginning or the final touch. We think it's a bit of both, it's a part of every step of the creation. As it's a very visual aspect of a picture and as it often can change, reveal or strengthen a model's features, we consider as highly interesting the point of view this book can share with us: the place, the role, the importance of hair - and the thrill it brings - as a major ingredient in fashion photography (and fashion in general).
Archive reveals many sides of 15 years of Wendy Iles' career, shares with the reader a perfectionist vision of hair which was the source of her creations for Dior, Cacharel, Alexander Mcqueen, Chanel, Hermes, Louis Vuitton and many others. More pictures and more info - who, where, when - here: http://www.printkultur.de/seiten/books/archive.htm
Commentaires
Poster un commentaire