13-02-08
NY f/w 08-09
What happens when I see some safe, soft, sound clothing while I wanted some saucy, sassy, spicy creations ? What happens when I wanna be delighted and I have to fear so much of being bored before the end ? What happens... What happened ? Actually nothing ever happens in NY during the fashion week. Nothing bad or good, nothing thrilling, nothing at all. Marc Jacobs doesn't exist, he's just a dream I had for a few seasons and I'm waking up and he's not there anymore. Where is Marc ? Nowhere. Where's nowhere ? Nowhere. What are those shapes I strongly believe I've seen last week ? Nothing. Nothing is real and I'd better live a bit more often with my eyes closed. I'm a bit kidding, I've nothing against NY fashion week of course but I had to skip many collections due to the fact they just don't inspire me at all, I've nothing to say... even on some rather good, some decent ones. The pieces I've finally picked up were sometimes parts of some unconsistent collections, some quirky ones but they had some proper qualities, were standing out by themselves. Some ideas as well, many ideas. NY is about clothing, clothing is about ideas. Not tailoring, not skills, not tasks. Ideas. Just brilliant ideas. Let the tailoring qualities to Milan's craftsmanship power and Paris overwhelming creativity. Why not to London's excentricity. But keep the ideas in NY, keep the feeling that clothing is mixing. All about having the good idea in time. And forget the bland beige, go for bad clothing, bad hair, bad ideas and turn it good. Turn it upside-down and forget what's around. You don't have to stay tuned for the shock of the new, rather the shock of the old turned new. Maybe. It's all about maybes.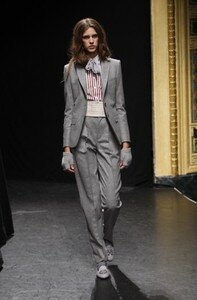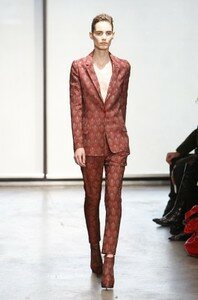 Obedient Daughters, Ohne Titel
Jackets, jackets, jackets. I think I've got more jackets in my closets than any other kind of garments. I love jackets and wore only one or two of them per year. Sounds odd. That's odd. If it wasn't odd it wouldn't have any thrilling aspect. There's nothing more delightful than finding an old jacket left alone for years and years that is just praying to be worn now or next week. That's why I loved Obedient Daughters second season's try in women clothing. It's all about jacket, it's all about my life. At least my life at 8 am when I'm picking the pieces I want to wear the morning. The bright mornings when I decided to change my jacket. And this is the kind of collection that makes you want to change your jacket. One after the other. Like "over and over again, without end". Maybe you can forget about everything else in the collection. But not the jackets. And from a small idea of change in the early morning you get a full-time job for all the day: reviewing jackets. I'll stop here with this jacket-mania or you're going to feel drunk. I already do. Jackets (it's the last time I write this word) are like alcohol to me: I don't know how to stop drinking, I don't know where it's leading me but the effect is granted. I look mad and egocentric but in a rather good way. Ohne Titel, without title. Prints etc. And tuxedos, printed tuxedos. From head to toe. Some Haider Ackermann vibe, just what it takes to look effortlessly good. Just that.
Chris Benz does it again. Chris Benz is my darling in NY since the first time I saw one of his collection. Chris Benz is the one who knows how to dress my dolls. That's just what I want, what I need, what I'm dreaming off night and day. And in full colors, heavy but fresh, preppy but almost cute, granny-chic but showing endless possibilities. And so on. The list can go on forever, my imagination as well. Apple-green, bad tailoring, ugly shoes and I've got the look. I remember my own grand-mother was wearing this kind of shapes. But hers was orange with white polkadots. I think I've already written that on this blog. Whatever, designers always do the same collection twice, there's nothing bad in being a bit repetitive myself. Tracy Reese. Means green and green. Green that doesn't suit every eyes. Whatever, green always suits mine. And designers can use it limitless and with the worst taste you can imagine (try the hardest), I don't mind at all. Green vs. spleen, maybe. Green vs. black (and mixed to black) for sure. There are always some nice green pieces, every season. That's pretty logical provided they're green.
That's just perfect. I'm striving for perfection since I've seen a white dress by Dévastée last october in Paris. Perfection is silly, is ridiculous, is easy and wearable. That's all. Perfection is to select four outfits, all from the same mold, with the same mood and the same length. Worn by the same model with the same overwhelming haircut. Love Ms. Prueger. Sweet as a Shea. Makes me want to cut my hair or buy an expensive wig (all wigs are expensive, many look cheap). So I probably would be in the right mood - finally - for loving some shorter cuts and tighter shapes. Ladadi, ladada.
When Alena meets Martin. When shoulders meet shoulders. When Russia meets Belgium. When etc. When and co. Actually I think every good collection is something meeting something else at the right moment. And both the "somethings" and the right moment and in the eyes and the mind of the beholder. You might like Christian Cota's f/w 08 collection, you might just think it's nothing worth a five minutes stop. You might think it's simply a few ideas thrown on a runway and it is. Runways are the best place to throw away all your ideas. Till next season.
Marc Jacobs is a visionaire. This season he presented his second line before his main line. I can only agree, Marc by Marc was much more thrilling. Nothing special, just some green shoes and asymmetrical shapes here and there. But this is enough, sometimes, to make it more thrilling than some inventive silhouettes. It's a matter of point and as almost everything in fashion it's a matter of eyes. Mines prefer the clumsy Marc. Ditto on Jolibe, nice overall collection.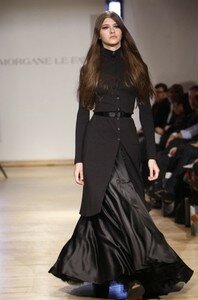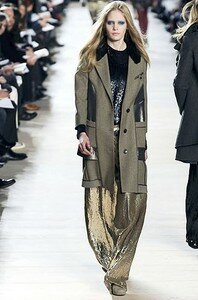 Morgane Le Fay, Proenza Schouler
Morgane Le Fay offered some pretty interesting and attractive silhouettes. So did Proenza Schouler (on a larger scale but with much more less interesting outfits between the good one). That's always what I like: when the most unexpected mixes turn out to look like the most easily wearable outfits, the most naturally and effortlessly elegant ones. Sure that Ghesquière knows how to make that. Sure that there isn't many challengers today. But there are many designers that can have their effortless elegance moment from time to time as their collections go by. Lucky are those who know how to turn a feeling you have for one outfit into a overall impression after the whole collection. Lucky Morgan Le Fay.
Some designers are strongly linked to a specific town. Some others have already their two feet in the future. Rad Hourani totally fits in the second category. Not the typical collection you're expecting to see in NY, neither the kind you'd expect from another town. Like Paris or London. Maybe one day we'll link NY to Rad, at least that's what we're allowed to dream today. Rad's timeless, precise designs are probably more able to fit the current high-profile, editorial-oriented models that have been carefully developed by agencies like Supreme, New York Models, Elite or One. You can always think models are here to fit the designers' collection rather than the other way round but the truth is that NY agencies are mostly ahead of many designers in their aesthetics. And the gap has grown out of proportions. More than ever, many castings were disappointing, totally unattractive, unappealing due to their total lack of sparkling new faces to discover through the shows. Rad Hourani was the buzz of the week because he clearly claimed the casting was going to be an important part of the whole thing. Because some "exclusive exclusives" were announced while other highly watched casting had some pretty expected exclusive models... This could have taken the attention away from the clothes themselves but didn't at all and probably put some more stress on the fact that a great collection doesn't rely only on the designers' sole imagination and talent. But rather on a global yet extremely accurate vision (broadened to the max) of what people will see on the runway. That means the important is the silhouette taking place in an atmosphere, that means the clothes themselves, the way models are wearing them and how all has been linked together...
Commentaires
Poster un commentaire