20-02-08
Spotlights vs. Delights
The most awaited casting, of Milan at least, is not a secret any longer. Prada f/w 08-09 took place yesterday and in the evening everybody was already talking about who was there and who wasn't. And who should have been there as well as who shouldn't. The "who?" has been quickly replaced by the "why?". So, in the "who?" we have to mention names like Eden Clark, Jourdan Dunn, Georgina Stojilkovic and, of course, Natalia Chabanenko. In the "why?" let's say the first names that came to our mind: Angela Lindvall and Guinevere Van Seenus. It didn't appear to us they were at the right place in that casting but you might consider this as our own point. We can explain, though. Eden clarked seemed to be an excellent choice, especially with Freja also in the casting. They both offered some fragile androgyny and perfectly matched the clothes, the styling, the overall atmosphere of the show.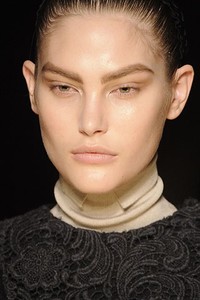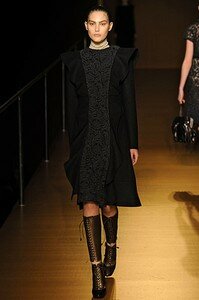 Catherine McNeil at Prada f/w 08-09, EJF campaign with Catherine by Eric Guillemain
Maybe another one of the most interesting parts of the casting was Catherine McNeil's appearance with this type of make-up and hairdo, in this kind of collection rather in some Versace. Her hair was pulled back for the best and the very light, very natural make-up gave her one of the too rare opportunities to show her authentic potential instead of playing another role that simply doesn't fit her. After the few pictures we've seen of her recently, shot be the outstanding young photographer Eric Guillemain, being casted for this show (not Prada in itself but this collection in particular) did really strengthen our faith in Catherine's true modelling skills and our feeling they were far from the biggest part of the editorial work and runways she's usually hired for. McNeil has something very raw in her face shape while her eyes are beyond delicate. We loved her as an awkward sexy bunny on the cover of Vogue Paris, it was a real performance but still a clearly definite role. Now we have a hundred percent Catherine McNeil walking for Prada. That's much more refreshing, to be totally honest. That was brilliant, one of the greatest runway moment of the season.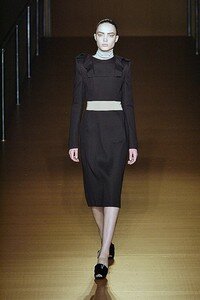 Natalia Chabanenko at Prada f/w 08-09
Back to Angela and Guinevere. What's the point. We're aware of the risk we're taking in criticizing older models. Sounds like we don't like to see them there simply because they're older than the average. Well, we can agree on that point, partially only. Some older models have been perfect for some shows, including a few appearances of Colette Pechekhonova this week as well as Sunniva at Marras today. But. But during a season that have seen too many new faces not getting enough opportunities on catwalks and provided the reputation and the actual power of a show like Prada, we had high expectations and I guess we weren't the only one. Their s/s 08 casting was powerful and daring, this one just seem to beg to differ from the previous. But trying to be different for the sake of being different has never bred the best ideas and it's sad to say this also apply to Prada's latest choices of models. No bold picks, no risky bets. After her Vogue Italia's cover in january, appearing on this catwalk looks as another attempt to place Guinevere back on the map. It simply doesn't work for us. It would have worked if there weren't these Inna Pilipenko, Heloise Guerin or Viktoriya Sasonkina with outstanding expressions, high levels of runway abilities and overall charisma that needed more worthy jobs in Milan. If there weren't these Kinga Luk, Julia Shvets or Evelina Sriebalyte waiting for a well-deserved runway moment. For sure, Prada can't give a chance to every new and promising model and can't remain faithful to all "their" girls from one season to ther other but going from a futuristic bunch of Cate Chant, Claudia Seiler, Franziska Drude to Guinevere looks tricky during one or two seconds then purely pointless.
Everything is not as dark as the lack of new faces or as stunning as a McNeil moment, besides these two extremes there reamin some pretty interesting facts (and pictures). Newcomer and obviously already a stunner with some Dovilesque qualities (half-charismatic, half-stiff with an eye-catching, unforgettable and almost unbelievable chin), Natalia Chabanenko opened and closed the show. Wasn't that surprising as the rumor of an exclusive walk for Prada did already reach everyone's ears around the fashion-world. But was simply well deserved. Other one who got the right attention was Jourdan Dunn. She's not "a black model", she's a talented model. The reasons why they've finally added a black model can be this or that. Whatever. This beign put aside, the real facts are that Ms. Dunn counts among the best of her generation. Last but not least, Amanda Laine and Georgina Stojilkovic, warmly welcome based on their own potential, not exactly the new faces "out of nowhere" that were the spirit of Prada. Cato van Ee -whose story was little closer to all those "sudden successes" we loved to see popping up on Miuccia's catwalks - should have felt quite alone.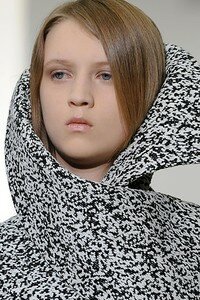 Daria Bichevina at Jil Sander f/w 08-09
Next question. What did the other castings in Milan actually look like ? Is there any worthy, yet less discussed, show in town this week that can bring some interesting models news ? The answer is yes. Not just one yes, a decent number of yes. Less buzz than for Prada but also highly considered for the exclusives: Jil Sander. The face to remember was Daria Bichevina, the girl scouted by Eskimo we've featured in January on this page. Between the delightful sensation of see some great potential translated into runway reality and the shock her fresh look brought to the collection. She was perfect for it and was really exclusive, strictly speaking: never spotted on any other runway and pretty confidential since tuesday, no speculation around her name weeks and weeks before.
Daks and Blugirl had some interesting names in their casting as well. Let's say that probably nobody was waiting for Maria Babikova to have a step in Milan. Daks did it. Blugirl brought his fresh touch with no less than Barbora Dvorakova (couture credentials: Givenchy and Felipe Oliveira Baptista) and Sona Matufkova among others. Much efforts as well on Maria Calderara's less-known (but definitely worth look) collection including Jessica Blanco or Megan Kuitems. Another one to watch is Albino whose casting was also much thrilling: Dasha Malygina, Inna Pilipenko, Oxana Bondarenko and a vivid trio of Zuzanas.
Last but not least, the most delightful, the tailor-made casting at Antonio Marras. One outfit, one model. This means over 40 high profile models. Some of them were absent or very rare in Milan. Viktoriya Sasonkina, Paul Pavlovska, Lera Bulaeva, Katya Pushkina. There are ten times more exciting names but we thought these four of a kind were the best way to describe the enthusiastic mood while watching Marras' collection.
Commentaires
Poster un commentaire