18-03-08
Erin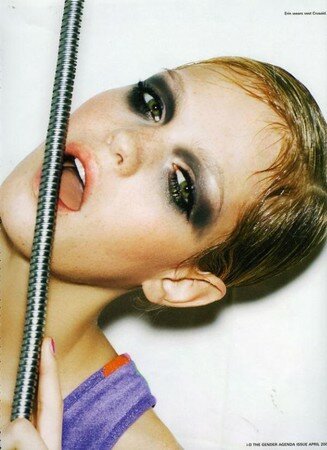 Erin Heatherton @ Joy Models (Milan), Marilyn (Paris) and Marilyn (NY)
Erin Heatherton. The kind of name that is easy to remember. Sounds good, sounds familiar. Just like her, after all. She's got this kind of cuteness which hits your eyes at first sight and will remain in your mind forever. Everything sounds simple and natural but if there is no doubt she's a natural beauty, that looks effortlessly great even after washing away her make-up in backstage, there's something much more elaborated about her.
What's exactly the secret behind her power as a model ? As with almost every cute face, there are two possibilities. First you're just in front of a cute but easily forgettable model or, and Erin belongs to this second category, you've got big troubles to figure out what makes a soft beauty so striking, so ouststanding, so haunting. How those sweet and sleek features are able to make this impression. Stronger faces often have jaws, brows or nose that really stand out and you easily know why you've been captured by their quirky beauty. It's easy to explain why they are eye-catching, easy to remember. But the fact is that some sweeter, softer faces without any particularly exaggerated feature are also able to look remarkable and unforgettable. At first sight.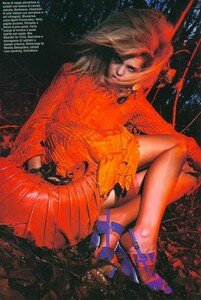 by Steve Hiett, from Vogue Italia
Lately, examples aren't missing and you can count along with Erin some others like Megan McNierney or Edita Vilkeviciute. Even more recently, Natalia Schueroff and especially Heloise Guerin have offered to poised, quiet beauties a safe place in the spotlights. However, if you look twice at them, you can always notice some specific yet rather small details you can consider as the key (or a part of it) to their appeal. Think about a square (yet softened) jawline, a slightly prominent chin, eye-lids that look a tad heavy, the shape and intensity of a smile... only small things that you would probably overlook when you see them first but that appear as more and more obvious after you started wondering why you've been attracted to such faces. In Erin's case, her profile certainly plays a major role. It's pretty different from her face, much more sculptural with something almost close to the "quirky beauties" mentioned above. This difference also contributes in making her more remarkable as you've already been conquered by the cuteness of her face. In the end, this turns out to be an enormous advantage, especially in editorials: an unmatched and unexpected touch of versatility.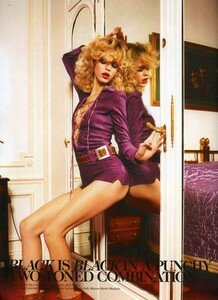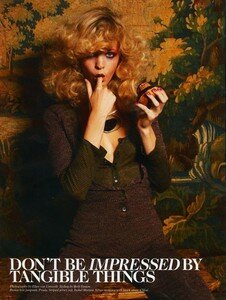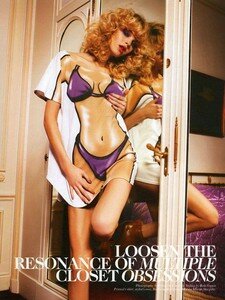 by Ellen von Unwerth, from Self Service
And Erin has already shown us she's versatile. She's worked with different photographers, each with his or her own vision of a fashion story and of Erin's appeal, including Greg Kadel, Eric Guillemain, Steve Hiett, Luciana Val and Franco Musso or Elle von Unwerth. Same about the designers: she walked for various high profile and very different ones, from Undercover to Elie Saab. She's not the kind that fits everything regardless how and why, without leaving any impression or personal mark, she's simply filling different requests of different type of designers, who exactly know what they want. Both Undercover and Elie Saab, for example, are very selective in their castings. Their both striving for a specific kind of faces that will match their vision in general, and their current collection in particular. We've already insisted on how being at the right place is more important than being everywhere. It will bring more opportunities to a model to book some shows due to her versatility than her popularity. There's currently a few names that could be seen on many coveted runways but clearly lack of high level print work. The main reason is probably their popularity on the runway, they are the girls of the season etc. Some will take benefit of this situation and will catch the attention of editorialists, stylists, photographers. But how many of them will simply have a great show season then won't show up in magazines at all. Or just book an editorial or two without being able to survive the hype. Today, girls like Alice Burdeu or Anna Selezneva are probably not those with the longest show list of the season but the fact they booked the right ones, that they walked where their presence was a real extra for both her career and the casting (a bit like when actors are playing the right roles), will probably lead them to some of the best editorial jobs. Erin's story is almost the same, her perspectives are just broader. And the sure thing is she's building a very strong book now.

Commentaires
Poster un commentaire