25-04-08
Behind the clouds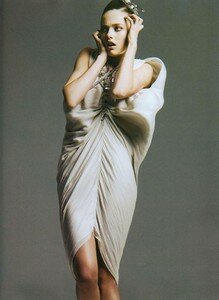 Karmen Pedaru @ Next
We just talked about development. And how long it could take to build a correct portfolio, how long it could be to see a model reaching a better spot. For various reasons. Some careers are starting off faster as you would have thought, some others just much slower as you could expect. Numerous parameters.
Karmen Pedaru is striking and has always been but her career wasn't as fast as let's say Karlie Kloss who shares this editorial (from Numéro, by Greg Kadel) with her and... Abbey-Lee Kershaw and Georgina Stojiljkovic. Yes, two other models that took their time before landing on top magazines' pages. Two careers in today's mold. There are more Karmens than there are Karlies. More Gantzs, more Georgianas, more Alines... starting as stunning newcomers, disappearing for a couple of seasons and coming back as dark horses booking every coveted shows.
Three models of a kind in the same editorial and only Karmen seemed to stay in the shadows. Georgina got the cover, Abbey-Lee got the coverage. Of course, Karmen's recent bookings and editorials are highly exciting and two more pictures wouldn't have made a big difference... if they weren't among the most striking pieces of Kadel's studio story. There is something more natural in the way she poses, she's probably the one who fits the edtiorial the very best way (even if Abbey-Lee really rocked it too and gave her best in every shot). She's the highlight.
Commentaires
Poster un commentaire