25-04-08
THE REDHEAD ISSUE...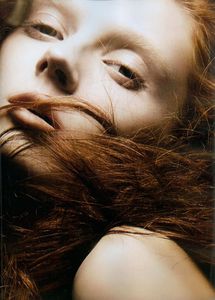 Olga Sherer @ One (NY)
...is everyday. We're always thinking about a big, big redhead issue but as we already wrote it in a previous post, it's really hard to make a complete issue with all the new faces, all the new editorials. All the news and the day after we see something fresher. A new faces out of nowhere. A new editorial or simply new tests or polas. Like Tanya Chubko's newest polaroids, like Sof'ya the new red sensation at Lilas Models, like this new beauty story from Numéro 93. Olga Sherer by Alix Malka. We thought it was the very best way to open a neverending redhead issue...
Commentaires
Poster un commentaire