22-03-09
Never say never: Casting at Viva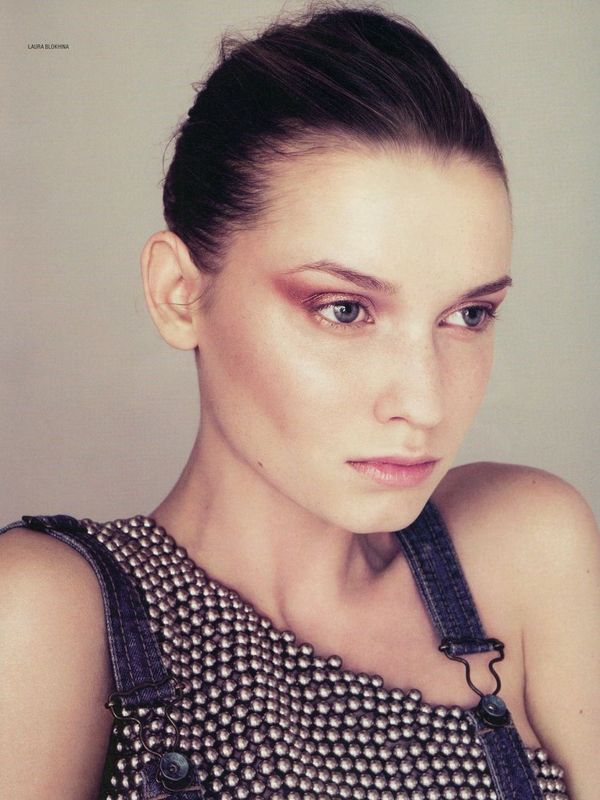 Laura Blokhina @ Viva
We picked Laura as our first face from the ten Viva girls featured in newest issue of QVEST magazine. For two reason. First her pose looked perfect to open the series, then we'll have a complete feature dedicated to her very soon (again, for various reason that don't always sound obvious but stay tuned). Shot by Aitken Jolly and styled by Sam Ranger, it's another delightful story from one of our favorite magazines. As it's an absolute must buy and we don't want to kill the thrill too early, we didn't scan and even won't give you any part of the little interviews they did of the models, it's better to keep the surprise for the moment you'll have it in hand. Reading it while smelling the paper is much better than getting some furtive little bits. Meet the ten ladies of Viva Paris, just in time after Amica's casting at Why Not two days ago.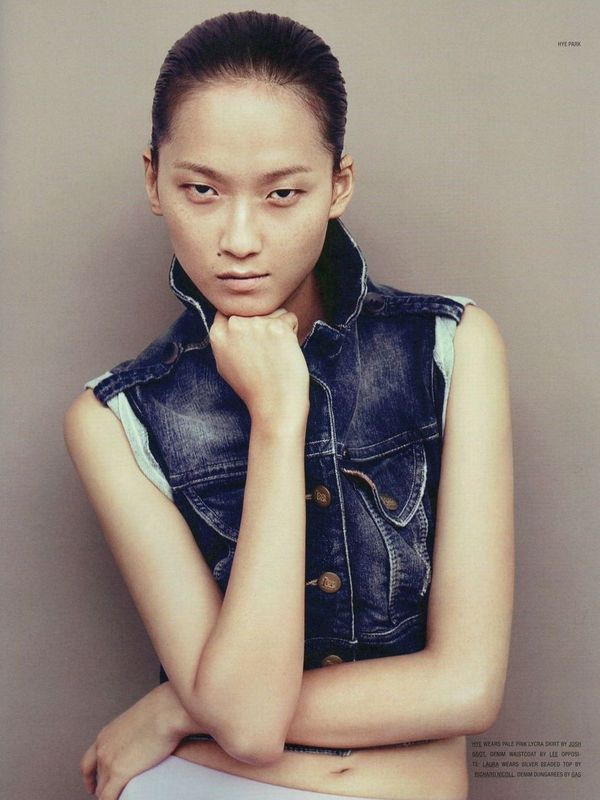 Hye Park @ Viva
She walked enough during her whole career and probably doens't need to walk many shows each season now. She has established her unique trademark and left her mark on catwalks and in magazins. Provided we often describe ourselves as focused on new faces and our work as highlighting the interesting newcomers, this page shouldn't be the place to find news about Hye Park. Though, she looked so fresh on this picture that it was clearly impossible to skip her. Photographer and stylist captured the best part of her essence which might be the reason why she remains so popular season after season. Unmatched potential that is pretty hard to overlook and Marc Jacobs was right once again booking her for his FW 09-10 show. Among others even if she only did New York this time. As for our own Hye Park memories, we will keep her pictures by Eric Guillemain as perennial highlights. She does it all and does it well but we'll always have a soft spot for any kind of editorial or whatever where she looks natural. And forever fresh.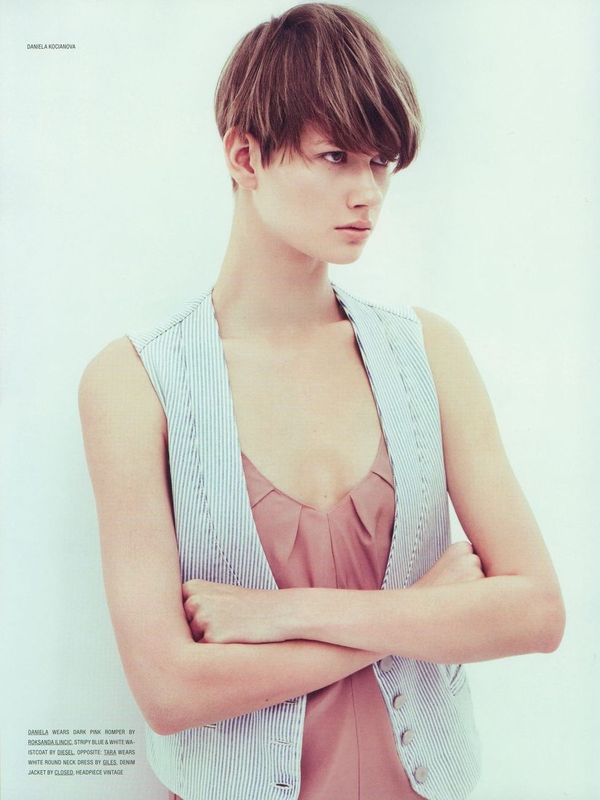 Daniela Kocianova @ Viva
It sounds like a personal favorite is turning into an editorial queen these days. After appearing in i-D (read more about the androgenous genius) and Citizen K, she's now in QVEST and on QVEST as she also has her own story in this issue as well as the cover. She took a wonderful start last season and seemed to slow down if you only look at the runways. But there is more to life than catwalks in a model career and her editorial book is getting thicker, stronger and as unique as her look. Short hair went very popular and finding good girls who know how to handle it became easy. Though, it's much harder to find someone like Daniela, able to give a supplement of soul to it and moving the boundaries with the same subtlety. It might fit the most minimalist black and white as much as the leopard-printed background, straight locks as easily as curls. The question is what can't she do ? We're even sure she could work out some lady-like atmosphere and styling. Which would be another fantastic fashion moment for the most perfect tomboyish model ever.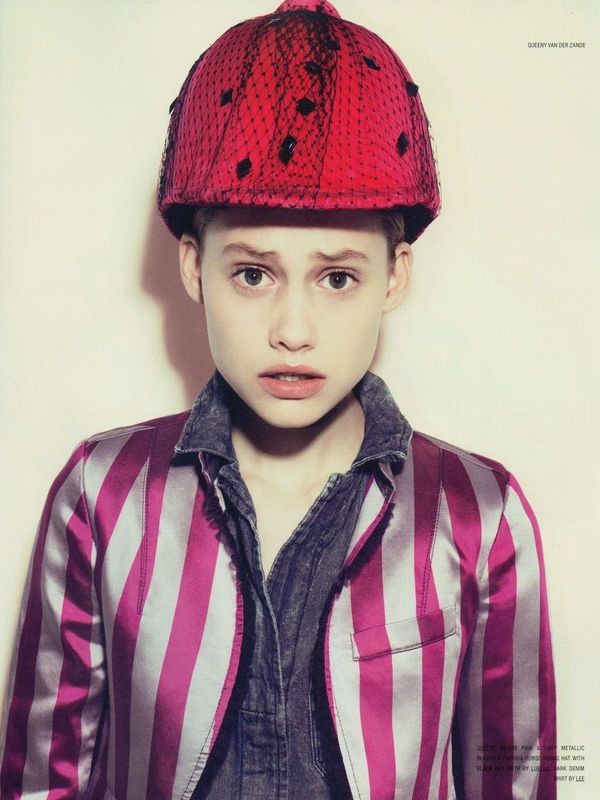 Queeny Van Der Zande @ Viva
Our favorite picture of the whole editorial. Who looks cuter, seriously cuter ? Simply intense while almost funny. Styling is perfect for her and it's perfect for her book which already had various different moods from one page to the other. London's sweetheart (she walked for John Rocha, Nicole Farhi or House of Holland this season) also made her marks in Paris this time walking for Chanel. If it might give a boost to her book, it also brings a breeze of fresh air to the casting (the same way as Eniko Mihalik a while ago). You might consider it as a natural or logical booking after seeing her at Chanel Couture show one month before but things are changing so fast these days that you can take it as a good sign for sure. Queeny was also among the most remarkable performers at Marithé + François Girbaud in Paris, she seemed to take it easy and looked unbelievable when she danced on their runway. Feeling comfortable in any situation. The picture from QVEST shows it again, well done.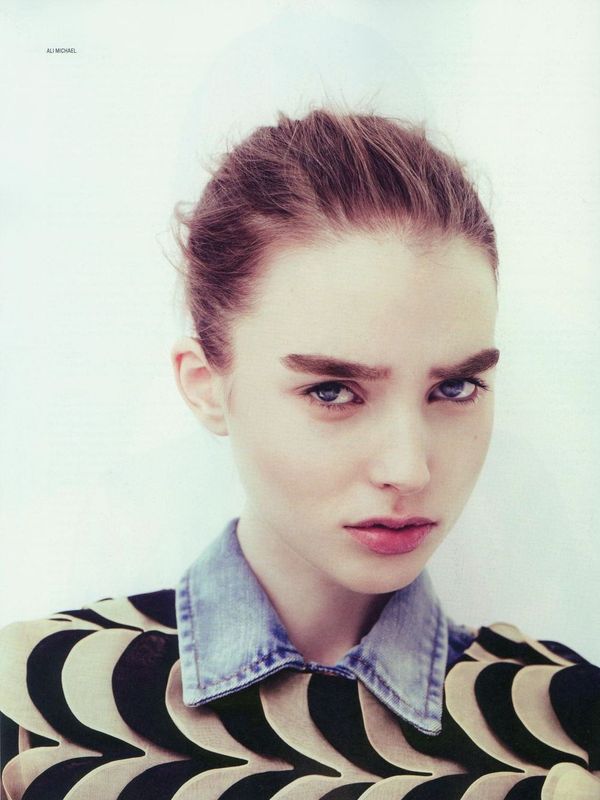 Ali Michael @ Viva
Ali didn't show up this season on any catwalk but got two recent covers in less time you need to say it. She looked at her very best on both Mixte and Wallpaper, showing her strong/unique look doesn't keep her away from being versatile. There's something playful about the way she poses even if there is this rather dark, dramatic vibe around her (thick brows, pale skin and intense gaze). We weren't her first supporters since day one but her editorial work won us over. Page after page, magazine after magazine and no matter who was the photographer. Her Lula cover or editorial from Vogue Russia by KT Auleta are still among the masterpieces of her career but seem to call for other ones. Hope soon. At least we have this one which perfectly summarize Ali's trademark (without getting gimmicky).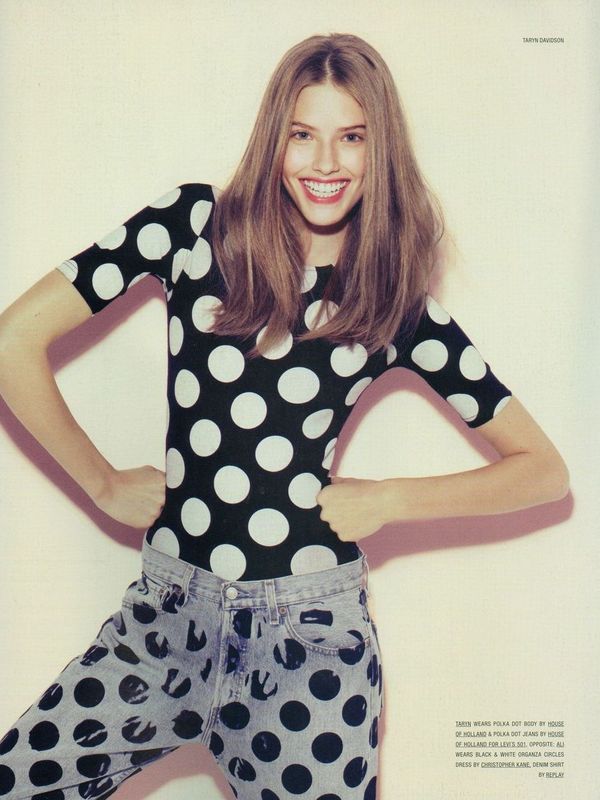 Taryn Davidson @ Viva
Let's be honest and tell it how it is, she has never been our biggest favorite. Let's be honest again, things can change as quick as they come and our feelings towards a model's potential are highly related to her actual work. Which basically means her editorials. And this lonely page could be a good opportunity to change our mind. After all, she embodies March on Vogue Paris 2009 calendar by Terry Richardson. She's like March, blowing cold and warm around her depending on the editorial or show she is in. This season she was nearly perfect at Wunderkind, Dolce & Gabbana or Giambattista Valli and her overall runway list in Paris looked awesome. She also knew how to handle bleached brows in Italian Marie Claire by Daniel Gabbay and her editorial in Harper's Bazaar by Solve Sundsbo was quite brilliant as well. The answer might be there, we still need a few more striking stories like that to have our big crush. And, one advice maybe. She works out polkadots like nobody else with her huge smile rocking them. Keep it in mind.

Elise Helene Gatschene @ Viva
That's so neat to have two girls from Elmer Olsen in a row (after Taryn). Two different ones, two successful ones. We discovered Elise Helene last season in Paris at shows like AF Vandevorst and this time she hit another level ending the week with Yves Saint Laurent and Louis Vuitton on her booking list. Not bad when you know she started with Lanvin and did Dries Van Noten as well, adding some extra arrows to her bow. Nobody knows what's next (excepted her agents and the people who recently worked with her) but we're definitely keeping our fingers crossed to more (and more) editorials. The sooner the better as always. Well, the better the better.

Sara Blomqvist @ Viva
Sorry little Sara but one had to wear those glassed and it was you. It doesn't keep her away from the spotlights, though. Latest example is her new editorial in Vogue China by Jem Mitchell, it's simple and right to the point. When a fancy hairdo meets an expressive face... and that's not everything about Sara that needs to be written right now. She closed Miu Miu and, by this way, closed the season. Talk about a suitable ending, right after Kenzo and Louis Vuitton. If Paris seemed to love her once again (well, to love love love her actually), London seemed to adore her. Closing Christopher Kane, opening Noir and Luella. Neither New York nor Milan were able to do without her as well and when you put it all together you've got another incredible season. Unstoppable. Truth simply doesn't make a noise...

Lindsay Elligson @ Viva
What was true for Sara is even more in Lindsay's career. Truth definitely doesn't make a noise. Silently going her way, putting great shows and good editorials side by side. Without fading away. As far as we remember, she always did well on every runway in every city and is a regular catwalker for shows like Chanel. The ones looking for a classic, timeless look with a touch of cuteness and a graceful walk. The ones looking for a safe and sound beauty who knows how to work out any kind of outfit. Not completely a chameleon but able to embody the character you want her to be. Like a doll with a human touch, endearing, charming with her sensitive gaze. Count her as a Couture wonder as well and note that she is in current issue of French Revue de Modes. She might look a bit old-fashioned to some but who cares as long as her appeal still finds some large echo today. So now, Ms. Ellingson ? The answer is in between.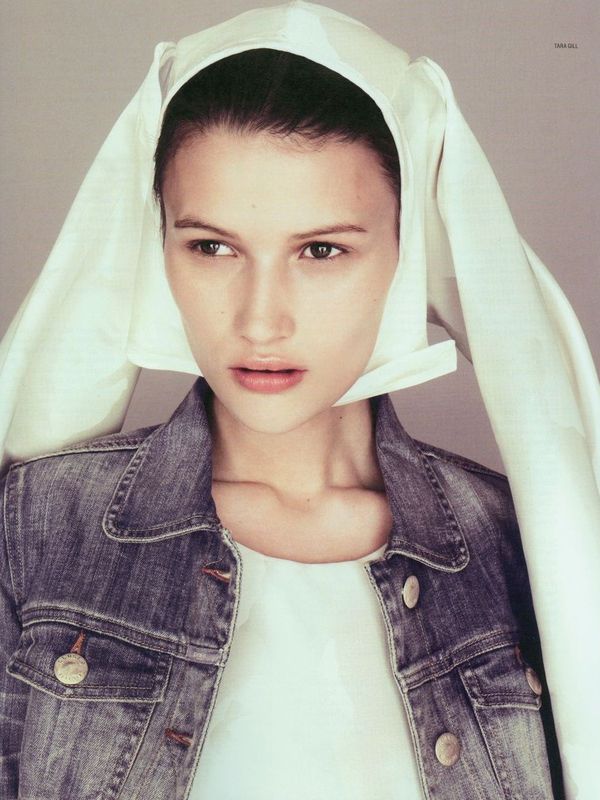 Tara Gill @ Viva
Last but not least and third girl from Elmer Olsen in Canada, Tara Gill. Dark and wild or the epitome of sweetness. It all depends of how you're looking at her. Runway girl or editorial beauty ? Classic or unique ? Or everything at once ? It seems to us that the latter is the better. If not we would have to stop trying to find a way to describe her. She embodies a certain kind of raw refinement and an idea of the sophisticated brunette. Again, pretty hard to find the right words. Facts can tell it better, facts are sometimes more relevant. Facts are called Yves Saint Laurent, Issey Miyake, Kris Van Assche, Jean Paul Gaultier, Hermes or Maison Martin Margiela in Paris. From the prestige of big names to the less-known, picky castings. Same in Milan, from Antonio Marras to Dolce & Gabbana. Editorials are following the same path with Marie Claire Italia (cover and editorials), Harper's Bazaar UK, Flair or french Elle. We guessed this described her right.
That's it with this Casting series from QVEST. Now we can hope for another one in another magazine. Or maybe do it ourselves. DYI castings could be our new features, wait and see.
Commentaires
Poster un commentaire