17-09-09
Nevertheless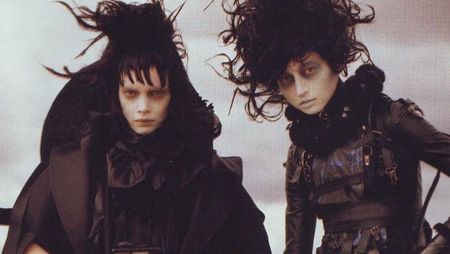 Sophie Srej @ IMG (NY), Evelina Mambetova @ Supreme (NY)
Tim by Tim sounds like a dream team to us. Burton by Walker. Thumbs up even before seeing the first pictures from the feature plus we trust the solid aesthetic that makes the trademark at Harper's Bazaar. Only a bad models choice would have stopped us from jumping of joy and luckily Malgosia Bela fits for the theme, even if we would have loved some more Evelina Mambetova and Sophie Srej who look like background second roles. Nevertherless the little lack didn't take the lots of love away and we fully enjoy the mood, from immediate visual thrills to good old memories poping up back while flipping the pages.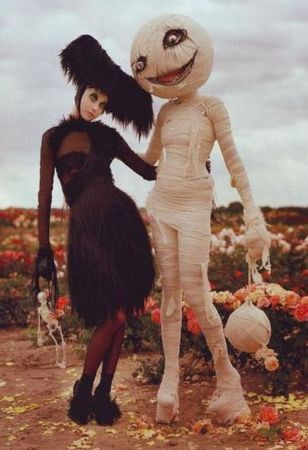 Evelina Mambetova @ Supreme (NY)
Still slightly underrated on the runway even after walking Lacoste, Ports 1961, 3.1 Philip Lim or Erin Fetherston this week, Evelina Mambetova (from L-Models in Ukraine) created herself her own character editorial after editorial. Relying on her dreamy features and ballerina looks, like dramatic doll brought to life - round face and endless limbs - she's always the one to cast for an extra touch of poetry. Stories she's involved in would never be the same without her presence. Latest piece before Bazaar was no less than Dazed & Confused and she also graced one of the last issues of Mixte before the mag passed away. Vogue Italia also counts among her glossy paper bookings, in Craig McDean's and Paolo Roversi's pieces. Tim Walker was certainly missing on such a list.

Sophie Srej @ IMG (NY)
The love for Sophie Srej doesn't seem to fade away or if it does it still radiates. Latest catwalks facts are giving more credit to the first option, though, with Max Azria, Philosophy, Marc by Marc and Rodarte on her Spring 2010 showlist. Rodarte was most likely a visionary styling for a girl like Sophie. Dark and intellectual yet forever fresh looking and perfect sweet and subtle. The pun is easy but much fun: Sophie is sophisticated. If not sophistication itself. And she's probably one of the rare models who look good in outfits like these from Tim Walker's story. She might be used to editorial prowesses, she also makes miracles in totally different atmospheres: Marie-Claire by David Bellemere (sensual) and same issue of Dazed & Confused as Evelina by Mel Bles (lighthearted). We just needed to see the genius two sharing the same story. All the pictures from current issue of US Harper's Bazaar, scanned by flyme2themoon @ thefashionspot.com.
Commentaires
Poster un commentaire