18-09-09
Bradford is Blogging: Wake-Up with Make-Up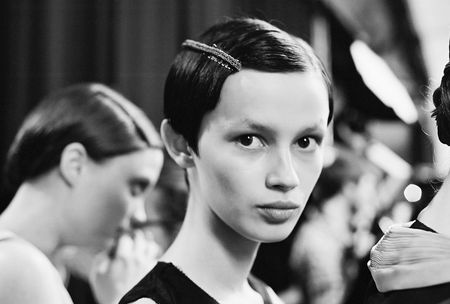 Ranya Mordanova @ Supreme (NY)
New York fashion week is already over, last shows took place last night (Paris time) and the frenzy should slow down in town and cross the ocean to hit London (already done). Good surprises, less good surprises, little fashion shocks and good moments following the whole thing from here that might turn into sweet memories, especially as we take care of our soundtrack as well. Won't reveal the beat, though, apart from heartbeats maybe. One thing is sure, this morning we woke up with make-up while checking out what Bradford Gregory did over the last few days.
Among the nicest surprises of the week is definitely Ranya Mordanova. Not that we didn't expect her to catch a couple of cool castings but her walk at Anna Sui was quite the crowning and pushed her status a little higher again. See the world from above and tell us how it looks like. If her appearance at Rodarte sounded like a natural option after Givenchy and Vogue Paris, Anna Sui was less expect and certainly adds another arrow to Ranya's bow, from gothic creature to girly schoolboy (or tomboyish schoolgirl up to your current mood). Here she is, pictured by Bradford at 3.1 Philip Lim - best casting and styling ever for Lim's label. Let there be light.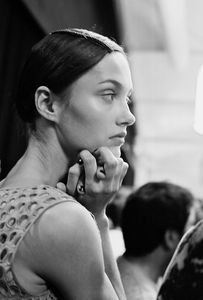 Naty Chabanenko @ Women (NY) and Karmen Pedaru @ Next (NY)
Two feline beauties, always perfect in their editorials (that famous supplement of soul some girls are able to bring without even being aware of it) and that we prefer backstage than walking. Naty Chabanenko, impish creature in front of the camera giving a glimpse like others say hello. So, say hi to Naty and get that playful point. Same show, same room, other atmosphere. We wrote it in our previous post, it takes a good girl's mood to change an atmosphere. Karmen Pedaru, lost in her thoughts, gazing at the unkown and leaving us in mystery. Eagerly waiting for the Estonian's next piece on glossy paper and let there be light again.

Katya Kulyzhka @ Women Direct (NY)
Katya Kulyzhka made her marks this week walking for United Bamboo and DKNY, bringing her freshness and cuteness everywhere with her. Get caught by the impish, playful look like us - Katya will be our next TMSRRE-girl, we promise you. There is much energy and good vibrations coming from Women Direct's darling. She's got a card for Milan now and we bet her journey isn't about to end. Backstage queenie in making ?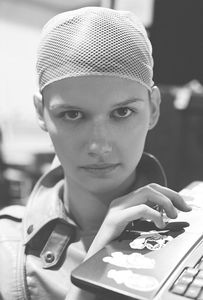 Daniela Kocianova @ Supreme (NY) and Alex Sandor @ One (NY)
After the playful, the quiet, thoughtful expressions out of two of the most intellectual looks of the week. Supreme's newcomer who's actually already a perennial favorite of ours, Daniela Kocianova and One's sweetie-with-stamina from Romania, Alex Sandor were both among the good surprises of the week. You can never clearly predict the future (even near) of such models: their very own look will always appeal to a few good eyes but you never know how many of these will be in the mood. As Daniela grabbed Marc by Marc, Ruffian, Vera Wang and Alex gathered Jason Wu, DKNY and Phi on her showlist, the mood was good. Both were caught by Bradford at Alexandre Herchcovitch. Crashing beats and fantasy.

Mey Bun @ New York Models (NY)

New York Models editorial prodigy turned blonde for the shows and was spotted last minute at Koi Suwannagate by Bradford Gregory. It will remain one of the most striking picture of this week and the intense gaze she gave to his camera echoes her performances in i-D by Chadwick Tyler and Vogue Russia by Terry Tsiolis. The perfect goodbye. And see you soon.
Commentaires
Poster un commentaire