22-09-09
Don't call these black and white

Meghan Collison @ Supreme (NY)
A boy and a girl, a young man and a young woman, a man and a woman. And so on. Honestly, not our favorite topic as you might know we are entirely devoted to female models and our page is hundred percent dedicated to them. So, tonight we'll talk about a different combo as our usual multi-girls editorials, even more as the pictures above are taken from Levi's European campaign (and you might have noticed we don't feature many campaigns). And, as it's not mentioned under the picture, the second character is male model Josh Beech.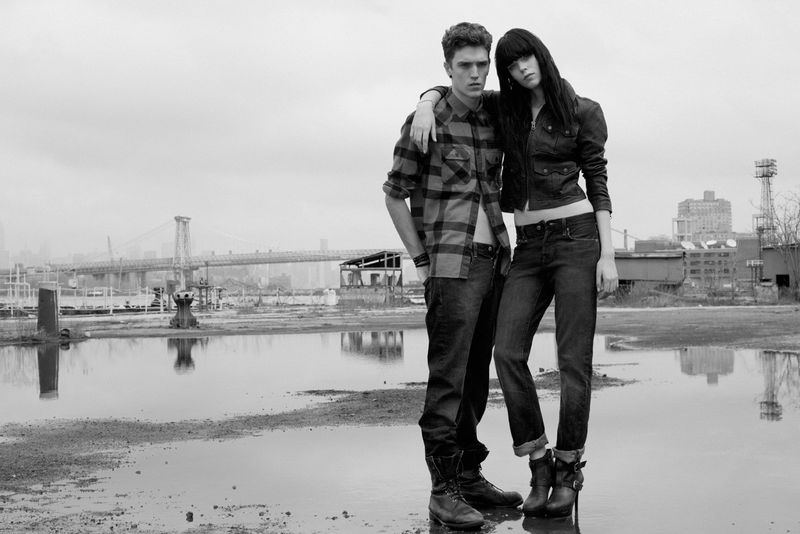 Meghan Collison would have been enough as a good reason to drop a few lines on this new campaign but we need to confess there is another one who's got as much weight for us. Photographer is no other than Chadwick Tyler who belongs to our all-time favorites since the day we discovered his work. We relentlessly followed each of his step through various magazine, how his style evolves while strengthening its core and all the possibilities his unique approach have brought to models books.
Halfway between creating his own creatures and capturing the hidden sides of his models, Chadwick pushed us to reconsider the place of the photographer in the process and think further about the nuances one's work requests to stay true to his vision. That was already the stunning part of his recent story in Dazed & Confused and it seems to be the most important (to our eyes and souls) about his brand new piece. His Levi's campaign.
If it's much easier to see the differences between the three pictures above and his famous tests or Tiberius exhibition, we always considered each of all his pieces as totally unique due to the model and the atmosphere she brings or brings to his mind. And this is exactly what makes these new ads stand out if you are interested in (or, as we are, focused on) the subtle details that create such special atmospheres. Here, the choice of Meghan has its importance provided the Collison-gaze's own power. Dive in, get trapped and smile.
Differences on one front make the whole story more consistant and makes you able to give birth to masterpieces. Sounds tricky for the unaware ears, looks thrilling for the impatient eyes. Even more when you keep in mind the gap between Levi's campaigns in US and Europe, when the latter was shot by the photographer who embodies (for us, at least) the New York style like no other. No wonder actually as we, European, might be hungry for such a vision paying tribute to denim's soul and legacy in an old-school yet modern way. And we, personally, are always hungry for more of Chadwick's work. Tyler might have gone commercial for the best but commercial has also turned more Chadwick than ever. And these are definitely more than black and white. In the technique, the aesthetic, the vision.
Also make sure not to miss the movies (#1, #2 and #3), directed by Chadwick Tyler and Wardenclyffe. Third one is pure love.
Commentaires
Poster un commentaire