24-09-09
There's no Legend without Controversy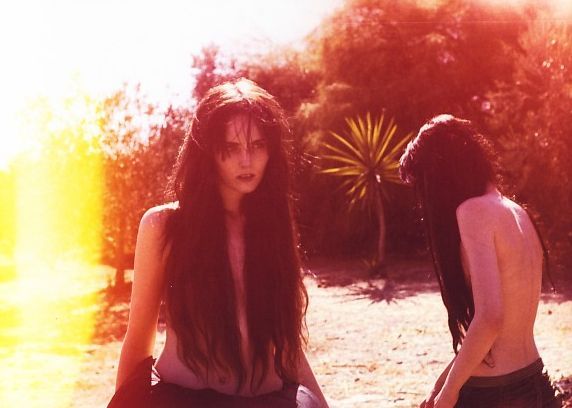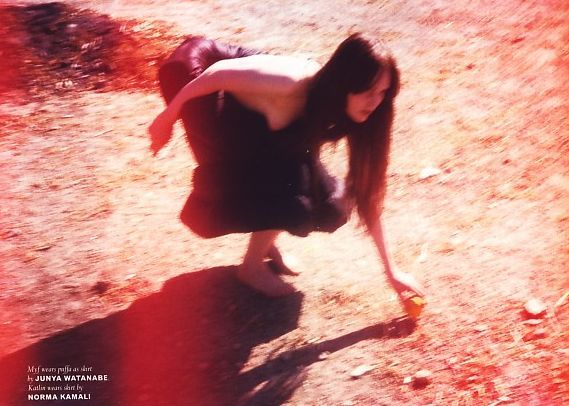 Myf Shepherd @ Next (Paris) and Katlin Aas @ Marilyn (Paris)
Taken from Pop's latest issue, taken in the middle of nowhere it seems, like captured en catimini (by Mark Borthwick, fashionized by Vanessa Reid). Truth is known not to make too much noise but shocks rewrite the sense of truth everytime we need a new definition. Which is often salvatory for people who work around the notion of beauty. Myf Shepherd and Katlin Aas, together on a picture, in the red and yellow rays of light. Two worlds cross within the same scene or just don't. Who knows how many ways of interpretation exist for the first picture alone.
Myf and Katlin, then. Two unusual beauty types, two times pale skin and dark hair, both pushed to their extremes. Two different beauty types as well, different features and moods, different stories and different successes. Katlin started to get some serious attention after opening Prada last season. Some were blown away, some weren't impressed at all. Special look that was too special and not special enough, sometimes both at the same time for the same person. It might also "just" be the shock of the new, of the unexpected. Seriously, if she hadn't walked for Christopher Kane the week before, who would have put her in his list as a serious contender for Prada ?
Katlin had to make her marks on glossy paper as well to shut some mouths and open some more eyes. Numéro remains one of her highlights so far, playing a lot with her pale skin/dark hair contrast to enhance its visuals. That recent story was shot by Luciana Val and Franco Musso who also worked with... Myf for the same magazine not so long ago. Here we go, crossing the border, the river, the whatever but crossing it. Making the two stories fit into only one to make them split in two parts again. Crazy but necessary.
The quite successful second season for Katlin is echoed by an almost absent Myf. Raising questions that we won't (and aren't able to) answer. What's behind the scenes for some reason might belongs to this place for some other reason and there is no third reason to bring it into the light. Whatever Myf does now, she has brought more emotions through her editorial work than anyone else. Is it in Pop, Numéro, 10, Bon, Vogue Australia... doesn't really matter, Myf's magic works everywhere. Regardless of the photographer, the stylist, the reputation of the magazine. Moments on glossy papers don't happen too often but happened eveytime with her pieces. No matter which way(s) she's taking now and which shore she will reach next, the legend lives. Written by so many unforgettable pictures of a geniune character.
Commentaires
Poster un commentaire