09-10-09
Dutch Me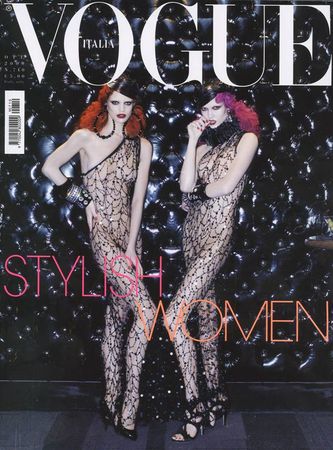 Rianne Ten Haken @ Women (NY) and Karlie Kloss @ (Next)
Dutch girls were the talk of the town this season and it's not without reason. Though, when you try to look a little closer or to dig a little deeper into the topic, you'll probably get the impression the "trend machine" is on again smashing everything on its way promoting a certain idea of beauty only. Are all these dutch beauties the same blond healthy teenagers or is there a place for singular looks. We might focus on the latter now and tell you a totally different story from Bregje's, Patricia's or Mirte's breathrough this season.
They're all great and it's not our point to say they don't deserves their place today. We've got a few more doubts about the reasons that make people pack them together and brand them as Dutch style. Patricia is soft and ethereal, Mirte is fierce and so on. Nothing to compare, actually. And if there is a true lack of Willemijn on french and american catwalks (nice appearances in Milan, though) because of Summer moods (and she's a winter girl, we could agree), a few unusual dutch stories came up to our minds and eyes.
One of the geniune highlights of our week in Paris was without any doubt that short moment we spent at Hermes. We weren't supposed to be around so it was even more delightful. Saw flashy red hair on an endless silhouette - was Rianne, newest Vogue Italia cover-girl. It was amazing to see her in person, walking there while the night was falling just two days after seeing her brand new editorial and epic cover. It's not a comeback, it's a moment. Stylish woman is the word. Second Hermes-delight was when Aileen Laquet appeared. The brand's favorite has got this extra touch of elegance you don't see too often. Poised and powerful.
Commentaires
Poster un commentaire