03-12-09
No Face, No Name, No Twitter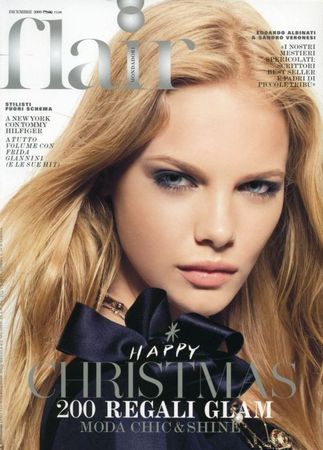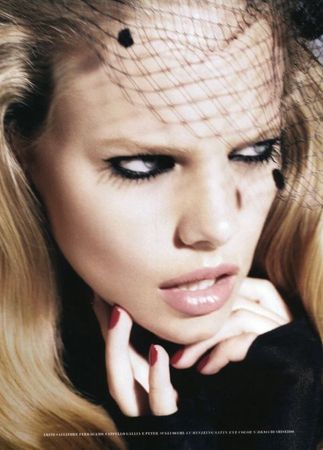 Marloes Horst @ Joy (Milan), Next (NY, Paris, London), Ulla (The Netherlands)
After ten days spent under another sky (or let's better say under other skies), first things we saw while turning on our good-old and delightfully slow computer are some brand new covers. December issues. Holidays pre-taste (and pretexts) or new year/new vibe concepts are making a few waves around us. Or in front of us, right in our eyes. Right in the target ? We guess not.
We won't have to spend too much lines explaining that we won't buy Vogue Paris or saying Vogue Italia's cover didn't strike us as the next big thing (nothing is, actually). A couple of words will be enough, and for the latter only. Vogue and Steven Meisel exploring another social network ? Not sure it's going to be a full exploration, as we haven't seen the full story yet but why not - they did it with similar trends already. Hence we're asking ourselves the question in the other way round: why ? Was it necessary to do so ? Nothing is. Was it an emergency ? Nothing is. Was it such a huge inspiration that couldn't wait any longer ? Only the photographer knows. It looks quite good, it looks quite nice but there isn't much more to say. So why are we still writing ? Only the writers know.
Meanwhile came Flair with Marloes Horst on the cover, with a story inside, both shot by Jeffrey Graetsch. Nice model/photographer combo then... nothing "special" as well. And that's just the point this month: nothing special. And when no specific visual trend is popping up all of a sudden, we just tend to feature what we like most. Just for the sake of the picture. Just to make the image world go round. Is it turning ? Is it moving ? Feeling it under our shoes. Pretty pictures, good models, good moods and the whole shivering while we're struggling not to be too repetitive but who cares: repetitive things are in. The epitome of a blond beauty - classic and fierce - molding her character into glamorous looks for a December issue ? Deja vu... but it works so well. Even without Twitter fonts on page one.
PS: Don't know exactly why but Marloes is so inspiring right now, giving us a couple of ideas for a near future. Once again, inspiration and originality are in the eye of the beholder. More than ever.
Commentaires
Poster un commentaire