17-12-09
Rebranding, Revamping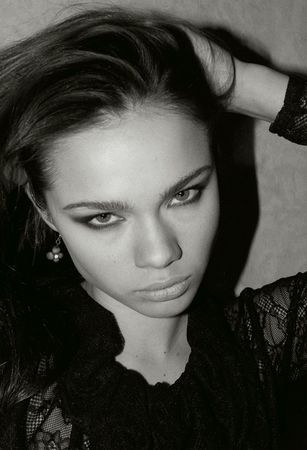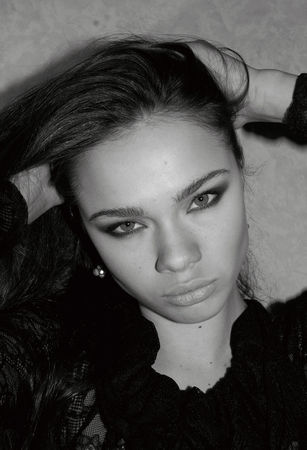 Nastya Smerechevskaya @ Image Discovery (Ukraine)
Our themes of the beginning of this week were all oriented on how fashion (and modelling especially) are able to reinvent old concepts and renew old ideas. Whether they manage it effortlessly or just fail, they always try. Superficially or in depth. Or both. What you see is what you get and what you get today is partly what you'll see again tomorrow but you won't recognize it. Or not immediately.
That was for fashion's soft(est) power. Now we're always focused on models - faces. Human beings who have to embody human feelings. Delightfully tricky, isn't it ?
Nastya came just in time to illustrate today's topic. New tests, new vibe. Not totally new vibe but new ideas thrown into the previous pictures' concept. Interesting track to follow. We introduced Nastya Smerechevskaya a few weeks ago (early November exactly) and her snakeskin outfit has certainly caught your eyes while her face attracted your attention. So, let's take the same kind of eye-catching outfits, same black and white and try to shed a new light on Nastya. Does that work ? We'd say yes. Now how to know which part of the results are due to the photographer's skills (and make-up) and which is due to Nastya's own improvement... tough question. No answer, just pictures.
Pictures. In the end it's all what matters. And all you can get anyway. But these new tests of Nastya are bringing an interesting detail on the table. A kind of poetic postulate about the thin line between polaroids (or more exactly digitals) and early test shots. The difference is getting tinier than ever these days with the increasing number of experimentations done on both. Polas looking like tests, with a huge room left to creativity to balance the clinic look of digital photography. Test who are as raw as polas in they will to show the girl how she really is. In the end everything is focused on the model's potential. Potential meaning ability to take pictures. Here we go.
Last part of our rebranding-revamping daydreaming delirium is about the agency behind Nastya, Image Discovery. Website is temporarily unvailable due to... rebranding and revamping. More image-focused which is pretty logical for something simply named Image Discovery. Discover it soon. CQFD, ladies and gentlemen.

Commentaires
Poster un commentaire