21-01-10
Q/A: FDIB + Chadwick Tyler feat. Gwen Loos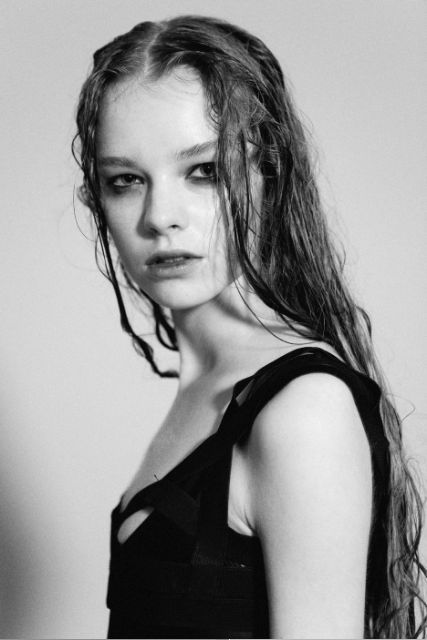 Gwen Loos @ Marilyn (NY)
Fashion Does It Better: What role plays inspiration in your work and what's the weight of technique in the process ?

Chadwick Tyler: A basic requirement for any good photographer, of course, is that they have good technique, that they know how to take a picture, that they know how to manipulate light and that they understand composition. But as so many students of prestigious art schools learn, there are scores of people who can master good technique. One also needs a profound source of inspiration. That inspiration needn't be something that everyone understands -- I have seen many photographers take very inspired pictures of what I consider to be very boring subjects -- but it must be something that engenders emotion and passion in the photographer. As I've said many times, my inspiration comes largely from the talent that I work with. I have the great fortune of coming into contact with the most beautiful Women in the world. The work that I do stems from a desire to exhibit their beauty in an unconventional and unexpected way.
FDIB: You said once in an interview that to start as a photographer one has to "make sure the lens cap is off. The button on the right typically is the one that takes the picture" but then "a good photographer should know how to shoot almost anything, but then choose how they want to shoot".
What interests us most in this vision is how it relates to a part of our own work: blogging. Starting a blog is as easy as registering on a blog hoster, but good content requires a lot of background work. Everything is made easier today and allows more people to explore some of their hidden talents, if efforts don't immediately fall flat.
Do you think this "trend" really helps new talents emerging (in general and in photography especially) or does it stay too random and the selection processes remain the same old ?

CT: I think you say it well in your question. The digital and automated age has brought with it some perks and some drawbacks. Blogs have massively expanded the globe's access to information and to a wide variety of opinions; and they have opened doors to people that do not have the pedigree that was once required to be respected as experts. But the digital age has also made it increasingly easy for fakers to put themselves up as experts. Blogs have allowed anyone who can draw a decent readership to act as if they are experts on almost any topic. And similarly, digital cameras and retouching software have allowed almost anyone with a amateur's knowledge of photoshop to themself up as a professional photographer.

FDIB: We don't want to turn around the jerrican too long and would like to get closer to what interests us primarily: the model(s). We often write articles on your work describing it as "unveiling one model's hidden sides", going further than what her "potential" shows at first sight or what her compcard says. We also read that your photography relies, partly at least, on some kind of connection between you or your camera and the model. Do you consider the model in front of you as a character of her own or are you trying to capture a character you're seeing in her?

CT: Some of my best results have come from discovering a character within a girl, who often she does not even know is there. I do not manufacture these characters in any sense, though, I simply point them out.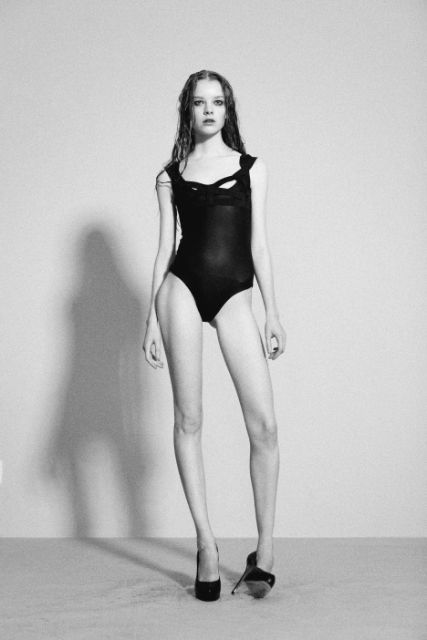 Gwen Loos @ Marilyn (NY)
FDIB: A photographer's point of view is often very important to us, as we learnt a lot on models by meeting them in person. We can learn a lot of their attitude (at work), their approach of the camera (even just for a quick snapshot) and a photographer will spend much more time with his models than we did in five minutes backstage. That's why we pay a lot of attention not only to the pictures but also the tiny little words from the photographer's mouth, especially when they are impressed. Who seems to be the most impressive kind of models ? The ones who seem to look good whatever happens or those who morph into some completely different persons in front of the camera ? Natural beauties or photogenic cinderellas ?

CT: That's a tough one, as I know and adore both kinds of Women. I would have to say that qua photographer my favorite kind of girl has a kind of chameleon nature to her, in that she can morph into thousands of different characters.

FDIB: We're not too much into name-dropping but truth is we'd love to know who are the latest girls leaving an impact for you. Is there any newbie around who truly impressed you lately ?

CT: Gwen Loos at Marilyn, Nicolette at IMG, Anais at Trump, Lindsey H at Next.

FDIB: Another topic related to the previous one is the way you realised how talented Karlie Kloss is. Changing your mind after a special experience. It's a feeling we know very well for experiencing it several times as we're focusing a lot on new faces that haven't unveiled all the different sides of their work. Some models need time, need to find the right pictures to put into their portfolios or need to pop up in front of you to catch your attention. This brings us back to the roles played by inspiration and technique. Would you consider a girl as a good model mostly for her skills (or talent) or is it a matter of inspiration ? What will really leave a mark in the end ?

CT: It goes without saying that the girls who I customarily shoot are at the top of the aesthetic food chain. Beyond beauty, and knowing how to move like a snake. I think what separates the girls who last from the girls who don't is a kind of je ne sais quoi in their personalities.
Commentaires
Poster un commentaire