26-02-10
Mum was Right!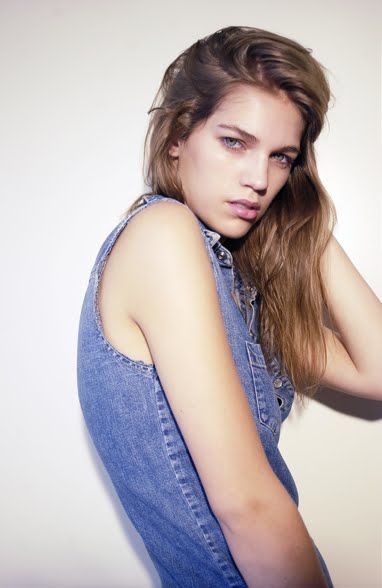 Samantha Gradoville @ IMG (Milan)
Remembered some teenage moments this morning when the idea of writing this piece first popped up. Parents telling you that they are right, sometimes at least. Example ten years ago (approximatively) was after watching a movie on TV with Reese Witherspoon and Mark Wahlberg -- the girl (Reese) dating a bad boy (Mark) who turned out to be a psycho and the girl's parents were right not to feel him at all then Mum telling you that you should listen to her more often. Great, doesn't make much sense, does it ? To be completely honest, it's a little (or a lot) off-topic but it came to our mind after remembering some backstage moments from last season in Paris. A small, less-known show at the end of the week, sharing a tea (or whatever) with the mother of a friend who did the casting for that same show.
One of the girls, as you might have easily guessed, was Samantha Gradoville. Don't remember at all why the mum was so captivated by Samantha -- most likely an editorial spread she saw not long before or even some campaign rumors reported by her son -- but she said something quite striking when you think of what happened yesterday. "This girl will go far, I can feel it, I'm so happy she's at the show today and I'm so proud he [her son, our friend] managed to book her for the job". We're quite used to this kind of words and it's partly because of this that we keep going backstage during our stays in Paris. Many times, we heard good things on this or that model from a makeup artist or a backstage photographer (best quote to date was on Alison Nix -- "I love Alison, she's so cool and so professional" -- no groundbreaking statement but you don't see so many cool and professional girls every season).
Well, our friend's mum could have remained simple words (they actually kinda will but not here) if Samantha hadn't opened (and closed!) Prada yesterday. Suddenly those "simple words" turned into memories of a "carefree visionary" moment, there was no real purpose in saying them and no buzz intended. And unlike the movie-experience from teenage years, we couldn't stop smiling at the idea that "Mama was right!" this morning. This is just the little story besides the "real" modeling history, pretty pointless to many ears and eyes. The Imagist wrote "unpredictable is an understatement" and we couldn't agree more with him to a certain extent: no one, absolutely no one, would have been able to guess Samantha was going to open (though we keep our judgement on the whole casting being nothing new as a concept) while the Fashion Spot was celebrating all night. Champagne!
Another highly interesting point in Samantha Gradoville opening Prada is how this could become a major shift in the overall perception of American Beauty. Many US girls had quite a good season on NY, London or Milan runways and unlike some previous geographical model-trend, no particular looks seem to dominate so far. From geek-chic chicks to cheeky dolls via poised classic beauties, the new generation on worldwide catwalks claims diversity as an aesthetic statement. And appears to us as a message to worlwide mother agencies: scout girls that you can promote as characters, outstanding individuals.
Last but not least, pictures we chose to illustrate this post were taken from Samantha's own blog and taken by amazing NY-based photographer Wilfredo Alexander who also shot Wilhelmina's show package. Might be another little thing to remember from that story, might be even one of the main lines to keep in mind when you are more or less (rather more than less here) interested in alternative ways of managing models. Models with blogs are definitely one step, at least, ahead of what could remain rather anonymous model masses one season later.
Commentaires
Poster un commentaire