03-03-10
TMSRRE The Sequel Part 1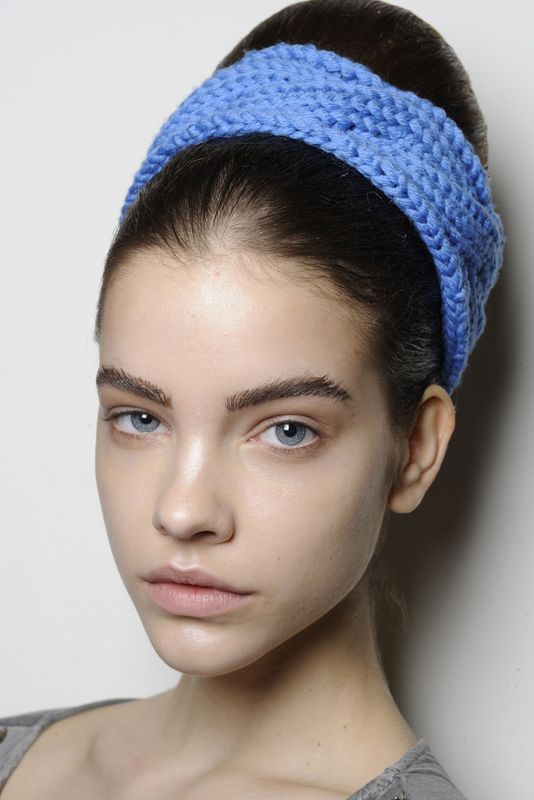 Barbara Palvin at Prada, backstage from style.it
Over the last seasons, our TMSRRE series (The Most Subjective Runway Reviews Ever) could include more than 30 girls. This time we thought we should rather slow down our show coverage's pace as castings have become trickier than ever. No real point anymore in featuring one girl or another based on her most recent runway appearances, even backed by some serious editorial proofs or prospects. Walking this or that show doesn't mean as much as it could have in the past or maybe everybody is just waking up, realising that walking isn't an achievement per se as The Imagist wrote it so well in one of his latest pieces. Quoting him a few times lately but seems it's quite worth to do so, even when we don't not fully agree with his statements. Points of view are interesting to read when the fashion worlds goes through such more or less natural shifts, may it be via an unexpected revolution (obviously not right now) or a quiet evolution (not that quiet but still moving step by step).
Not reviewing show results as well would be quite an embarassing mistake, though. There is always something to observe at the moment it happens and to learn from it afterwards. No need to put it in 30 pieces, one girl by post. The challenge relies on other ideas than walking as many shows as possible or in appearing by surprise on a certain catwalk. Even if the unexpected effects are still good to take. Long-lasting careers are what agents are really striving for in the end. Slow and steady, step by step approaches got more and more attention as girls without limitless showlists got more and more power in magazines in the end. Anyone saying or writing that what counts is the number of good pages is right. From The Imagist to some famous agents in Paris stating last season that they had major print girls while the powerhouse next door had only relentless catwalkers unable to translate their performances on glossy paper. That's the way it goes and the way it has always been. Somehow. It has just become more obvious now that shows appear more openly as a simple showcase for a model or an agency.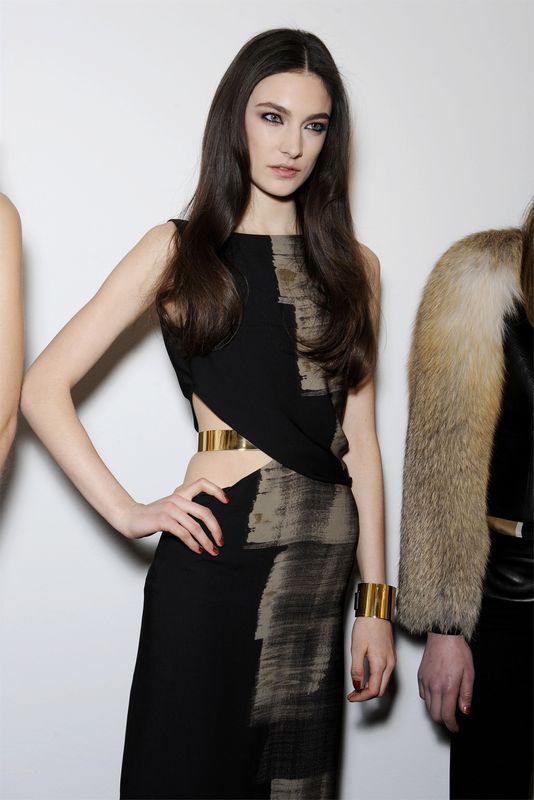 Jacquelyn Jablonski at Gucci, backstage from style.it
One of our biggest dilemmas was about timing. Should we rather put it into one big piece at the end of the four famous fashion weeks or in two parts, one in the middle and one after all is done ? The latter sounded more logical but it would put some unnecessary shadows on a few management aspects. As odd as it sounds, some girls will always suffer from a difference of quality in their management from one city to another and even if what really matters is our impressions and feelings at the very end of the shows, we should be fair to some agencies efforts at the beginnings too. High class management starts showing up with some New York showcards and gets enhanced (or not) by the first bookings' results then confirmed (or not) by the whole season and beyond. Saying shows don't matter at all is a huge misunderstanding, saying that show packages are minor stuff may be an even bigger one. Regardless of the approach and aesthetic used in this tiny part of the whole process. You will always have those that remain true to their standards whatever the latest trend could be, those trying to explore new ways and the new visions brought by newly-arrived teams at some agencies. But all of the packages we can count as real statements are worth to consider.
Last but not least before starting our first five portraits, this is still TMSRRE with its S standing for Subjective. And as we stopped counting after the fifth name crossing our two minds, some girls had to be out while they would deserve to be in and others you may consider as not worth listing in such an article yet. The process of picking these girls included showtime reality, editorial background, management quality and some personal considerations of course. Not trying at all to feature the newest, the freshest or the most successful only but truly willing to keep it as select and expensive, our list covers girls with different profiles and at different stages of their careers. Though, our faith in their potential and abilities to "keep it going on and higher" was their common denominator. And the only suitable reason to steal a few hours from our schedule to write such a long blurb.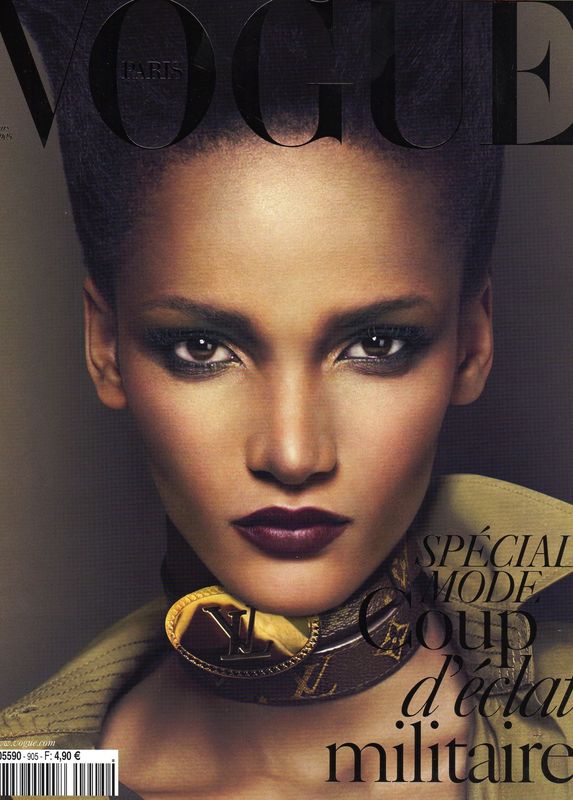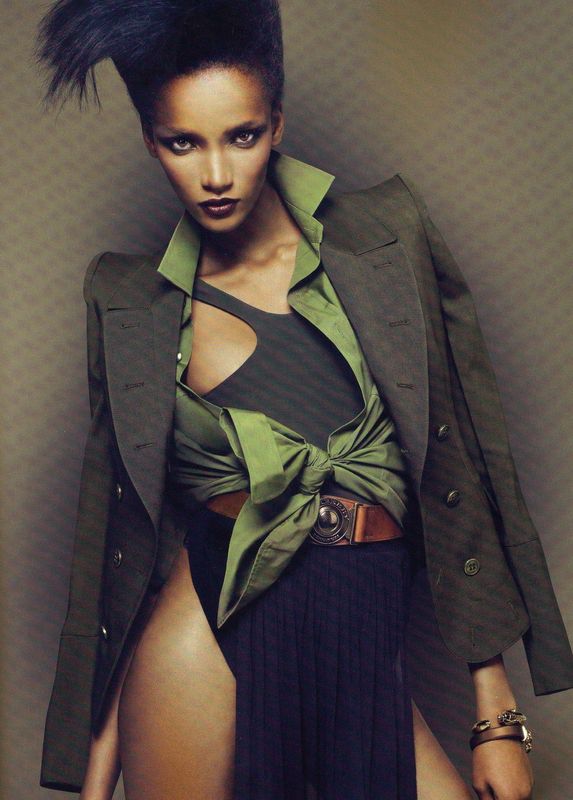 Rose in and on Vogue Paris of this month as scanned by elsaskywalker from thefashionspot.com
ROSE CORDERO at SUPREME
Try to overlook her now! Rose Cordero is another excellent example of these models who built their career in a rather unusual way. Should not be that unusual per se but if you ask a mother agent or almost everyone else on what makes a new face successful, none of them will describe Rose's debuts or career evolution. Smart management and perfect timing added some extra spark to her season with a Vogue Paris cover really dedicated to her. Note that if her booking list from New York is very expensive with names like Alexander Wang or Anna Sui among others, there was a total lack of shows cast by Prada's world-famous and highly celebrated casting director. Which didn't stop Rose from walking the most-watched show of Milan Fashion Week less than two weeks later.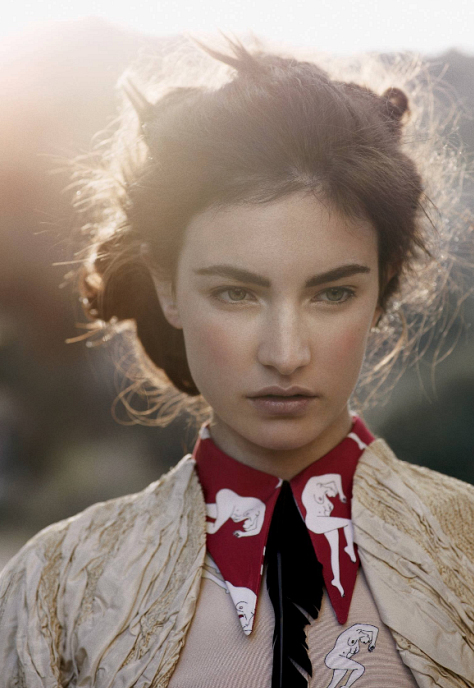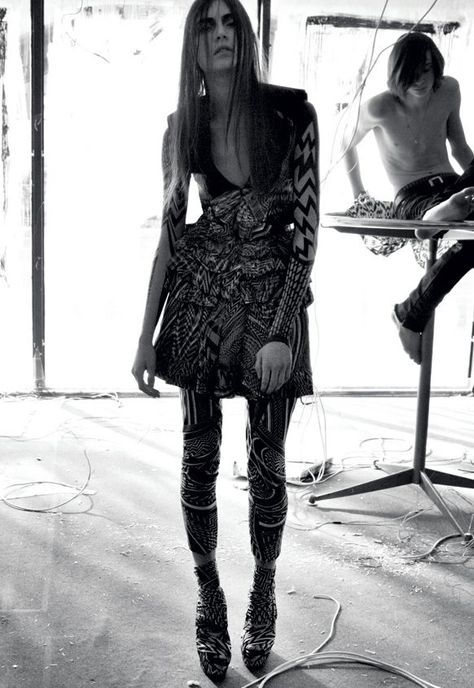 Jacquelyn in New York Times Style by Mark Segal and Interview by Craig McDean
JACQUELYN JABLONSKI at FORD
We simply couldn't imagine to write such a topic without including Jacquelyn Jablonski among the featured models. We've been following almost every step she did under Ford's wing and her flawless Fall 2010 season deserves all our attention if we care enough to write some catwalk reviews and reports. Beyond the obvious facts are also our own interest in Jacquelyn's career and character. Or let's put it in a clearer way: Ford's most successful high fashion girl of these last years is also one of our all-time favorite. Starting to list her runway appearances would quickly become useless and pointless as it goes beyond dozens of shows, adding more high-level bookings everyday since she arrived in Milan. What would be worth to say, on another hand, is where her popularity might come from. Take it as our personal opinion or make it yours but who else today can fit for a relevant definition of classy ? And who else can be labeled as classic while completely smashing the usual standards of classicism ? We are open to every suggestion of answer but for now we leave it to Jacquelyn alone.

Barbara in Jalouse and L'Officiel
BARBARA PALVIN at IMG
We know we wrote a piece that almost criticized the cast at Prada and we are now praising one of the girls debuts there. Doing it for various reasons and certainly not denying our first and last impressions on the show. First of all, Barbara's presence among the girls who walked Prada this season was natural. She fits for the collections and the brand's image in general: she radiates freshness but her appeal relies on her timeless beauty. Another good reason to put more emphasis on Barbara's first big steps takes its roots in the extended coverage we did of her editorials in L'Officiel Paris and Jalouse. Besides the quality of the materials themselves, the combination of a good presence in quality prints at the right moment and a relevant first catwalk appearance is a smart way to start a career. A combination that was no stranger to a certain Sasha Pivovarova a few years ago.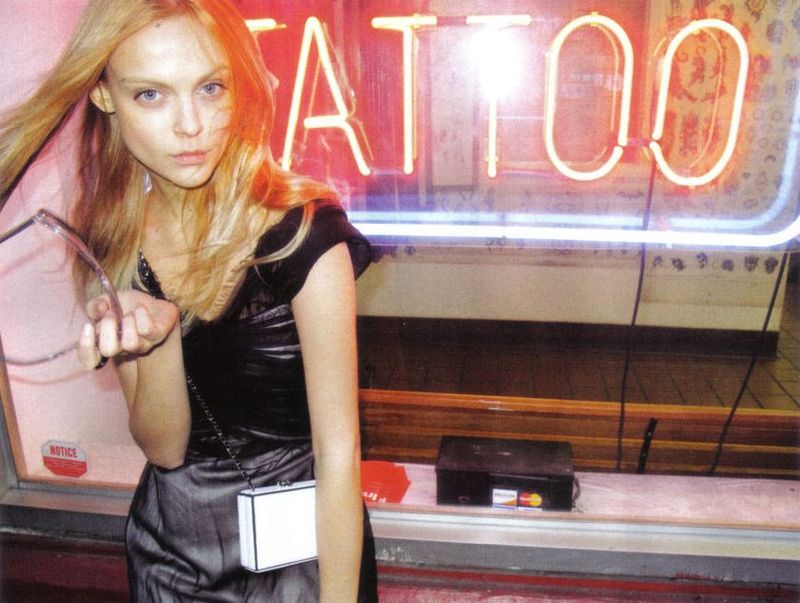 Viktoriya in Vogue Italia by Steven Meisel as scanned by Diciassette(17) from the fashionspot.com
VIKTORIYA SASONKINA at WOMEN
Instead of overloading our page with reports on the neverending flow of newcomers, we thought that putting a little more emphasis on what really matters was a much smarter move. Sure we are highly focused on new faces in general and spend a lot of time introducing several recent discoveries of worldwide mother agencies. But would it be worth if we didn't believe in them enough to keep featuring them once their career has taken off ? Viktoriya Sasonkina counts among these girls who gave us the will to start FDIB and we consider each post about her as a true statement on our vision of modeling.

Slightly curvier than last season and booking her handful of extremely select shows, Viktoriya's list for Fall 2010 is pure gold and illustrates what we consider as good management. Quality should always win over quantity when it comes to high fashion and bookings should always rely on the model's own forces and flaws. Building a career means building an accurate image before anything else. Both her showlists from New York, London, Milan and her recent campaign or editorial work proves it: being exclusive has nothing to do with signing any contract stipulating it.
Part two is coming soon as Paris won't last more than a full week, after all. And we want this second part to be a real (and suitable) ending to this TMSRRE concept. Sounds a bit tough and abrupt to say but we felt the urge to go for a major shift in our approach, as described all over this post. Though, if this has to be the end of an era (not speaking for ourselves alone, by the way), it could also mean the start of another.
Commentaires
Poster un commentaire