07-03-10
Alternative Statements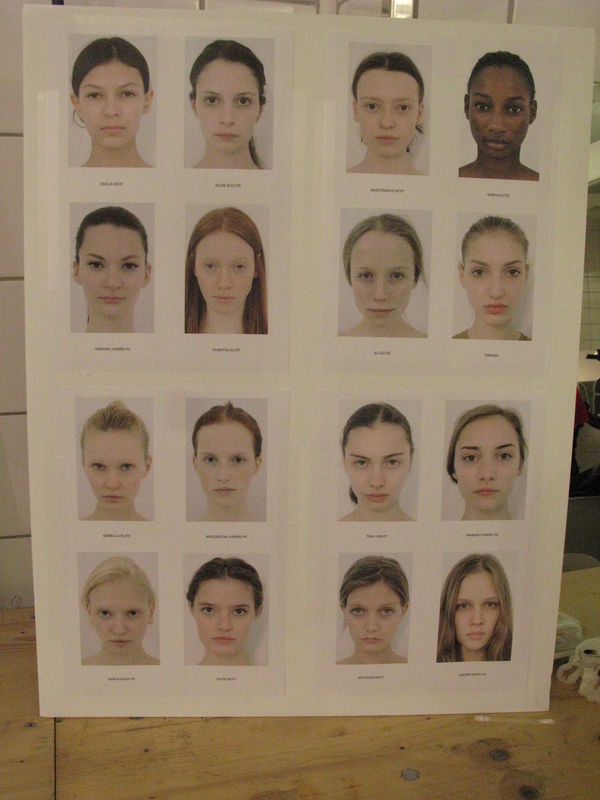 Gaspard Yurkievich quickly became a regular name on our Paris to-do-list and it's not without any good reason behind. Skipping a meeting for the sake of a casting reminds us our core business includes much more than making then strenghtening connections, like going where things happen and try to find out why. What happened at Yurkievich this season is not very different from previous seasons but that's actually the point, this runway keeps playing its role of highlighting potential major future forces in fashion modeling.
Besides the usual two or three personal favorites of the designer/casting director, Fall Winter 2010 at Yurkievich brought a few interesting points. Hard to imagine girls like Shena, Anastasia, Marike or Emilia wouldn't be there and it's all good for the balance of the cast to see them among the show lineup but what's definitely most interesting to watch there was the few less expectable, less seen girls. Less known as well ? Not necessarily.
First obvious good addition is Magdalena Jasek (Eskimo/Marilyn NY and Paris). Not that we could have expected her to be here but her presence made sense. Going from "who's that gorgeous redhead with that delicate walk" to "oh, yes! couldn't be anyone else". Magdalena embodies that breeze of fresh air you can always feel at Yurkievich regardless what season (despite the fact it's quite hard to embody a breeze, we agree). Made even more sense after spotting her last night at Jean Paul Gaultier too, especially as Gaultier had one of his very best casting in seasons and truly one of the most interesting in Paris. Just remember this segment of his lineup: Hind Sahli, Chrishell Stubbs, Nastasia Ohl, Aileen Loquet, Ginta Lapina, Rose Cordero, Si Tanwiboon, Maryna Linchuk and Lakshmi Menon. Broad spectrum yet clear line.
Second reason for us to rejoice at Gaspard Yurkievich was definitely Ali Carr's presence there. Becoming a FDIB-favorite since she started in New York, Ali (Elite NY/Paris) arrived in Paris with a tiny yet quite serious showlist, backed by some of the most striking shows in all three other cities: Marc Jacobs in NY, Burberry in London, Aquilano.Rimondi in Milan. Just another of this very select kind in Paris would make her debut season totally flawless. Well, it already looks quite flawless this way.
Ali's season could easily be the beginning of a lovely story, based on those step-by-step, slow and steady careers starting with a few selective picks then increasing the pace. At least, this career-pattern seems to make more sense after we couldn't overlook anymore how a great presence on first season could lead absolutely nowhere on the next one. How many girls got the most coveted spots on the first then almost nothing on second (when they actually were in town) ? A much lighter but brighter exposure seems more helfpul nowadays.
The last sentence also raises another important or, at least, very interesting question. What to think of this impression of ours that many runway shows still use some girls just to fill the remaining gaps in their casting ? Practically meaning: a few girls within their lineups are true statements, having them on their list completely change the deal (if it's not for today will be for tomorrow or beyond). Some model choices takes part of a more general vision while some others are just in the cast because they need a certain number of them for the show. Are we going to need a sort of alternative to this process in a near future ? We can't predict but this week helped us to define and refine our point on this.
Commentaires
Poster un commentaire