10-03-10
FDIB loves and bookmarks: Theresa Genth on Modelwerk Blog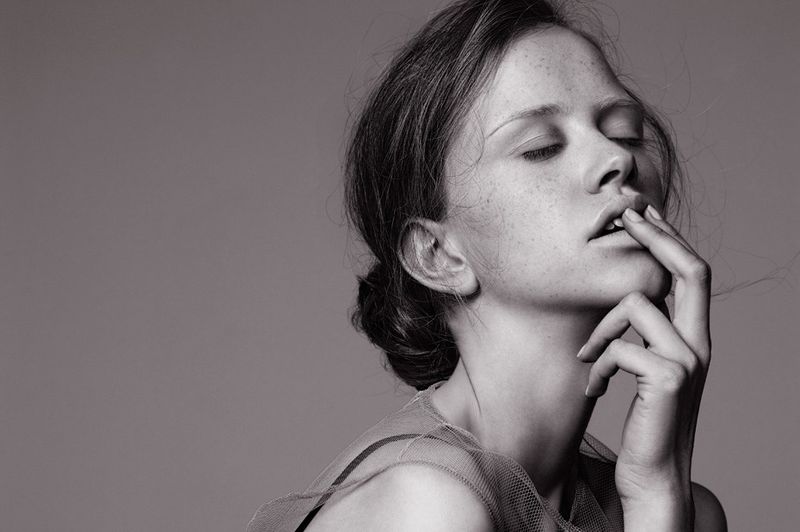 Theresa Genth @ Modelwerk (Hamburg), WM (Paris), Muse (NY)
Redhead love goes on like never before today or it's just by chance that we're featuring two (more or less) red-haired girls in a row who were also featured last week. Believe it or not, it's a bit of both. You can always be extremely willing to blog on one model or another, you always depend -- a little at least -- on what material is available at that moment. Sometimes everything happens within the same hour, obvious news and great pictures.
After Magdalena's remarkable first steps in Paris, a little blurb on Theresa Genth was quite welcome. Especially with fresh stuff just released on Modelwerk's blog, shot by Reno Ranger. First, because she obviously became a big-time favorite of ours after meeting her twice in Germany (laid-back in Hamburg, stylish in Berlin) and seeing what her modeling skills (and personality) are. A very rare combination of good factors, if you ask us. We met Theresa again two days ago, at her Paris agency's office. Wasn't totally expected, though everytime you have an appointment at an agency you keep your fingers crossed for your favorites to be around. It worked so well this time and was perfectly adapted to our schedule (and, really, try to find 20 minutes like that during fashion weeks!).
The same combination of a unique look, a lot of energy and an impressive sense of style caught our attention. Was for the third time, means a lot when we keep the same high impression. Besides being happy to see her again and exchange our feelings on fashion, it was an amazing opportunity to discuss modeling with a model who has something to tell about it. How she felt in New York and how much she enjoyed the experience. How age sometimes plays a role, how much important development is no matter what way your career is taking lately. How you build a serious editorial profile step by step. Talked about hoax in modeling news too, how a little lie becomes a huge misunderstanding. And came to the same conclusion: everything you do needs its proper amount of involvement and a real will to learn every day at any level. It's called hard work but it can be fun.
Commentaires
Poster un commentaire