21-03-10
// Parallel Lines //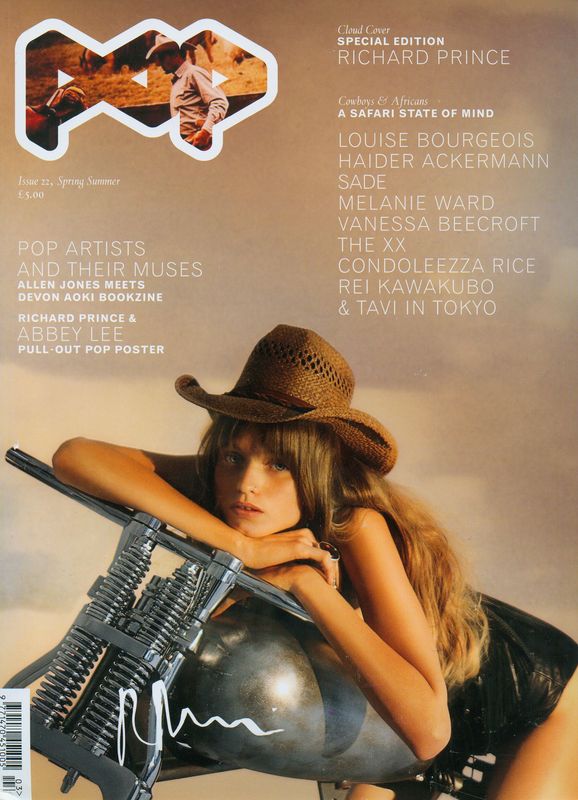 Abbey Lee Kershaw @ Next, cover by Richard Prince styled by Tamara Rothstein. Bottom left you can see a little scar on the magazine that travelled a lot before arriving at home here.
Got POP in hands, finally found it in town. It took a while till it arrived at our local bookstore but it's here, big and beautiful. Our copy suffered a little from travelling to our half-godforsaken city but it's still amazing to have it, smell it, read it, look at it over and over again. A magazine really becomes a magazine the day you can touch it and, as someone said it so brilliantly in a recent interview, printed magazines of the level of POP still have a bright future ahead of them. Shame on us we forgot who, or maybe it was Olivier Zahm on style.com but not sure and no time to doublecheck right now. Could be him anyway and his words were amazing there. There will always be a place in this world for such objects, that even printed by thousands could turn into pieces of art -- in their spirit and form, and not only for crazy collectors.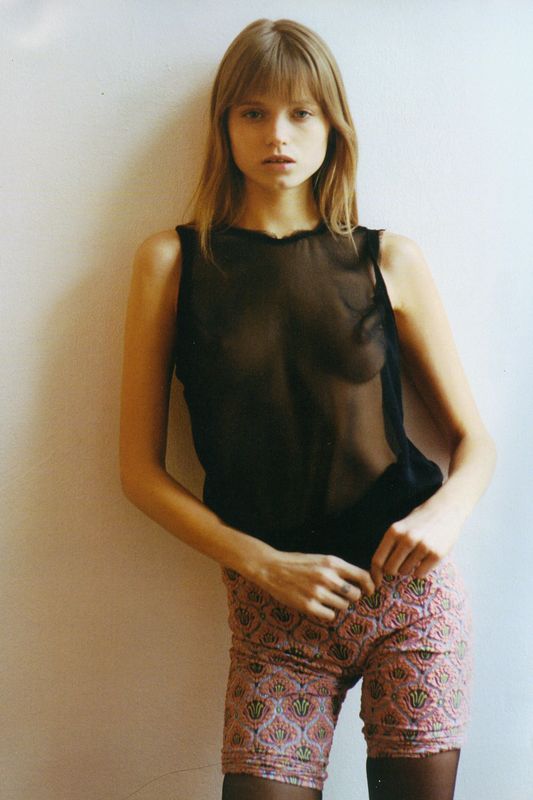 Abbey Lee in Berlin by Ronald Dick, styled by Tamara Rothstein.
POP certainly deserves the title. Not only (or not at all?) because of its collaborations with Richard Prince or Tina Barney but for exploring the themes and inspirations till their deepest or furthest limits, for staying true to the direction and aesthetic from page one till the end. Also for the way the whole magazine is put together, finding the right support for the right topic, bringing extras the way they should always be brought, questioning the eye and other senses in an appropriate yet slightly disturbing manner. From that editorial by Tina Barney and inspired by some previous works of hers, featuring several models of the newer generation in what could seem like a retrospective, to the minimalist atmosphere of Abbey Lee's Berlin pictures by Ronald Dick. Could have been shot in the flat we lived in for one week in 2008, same vibe. Goosebumps from good memories popping back in our heads and we're not surprised at all to read Tamara Rothstein's name next to the photographer's. Her work has always known how to talk to our hearts and souls. Matching visions, maybe.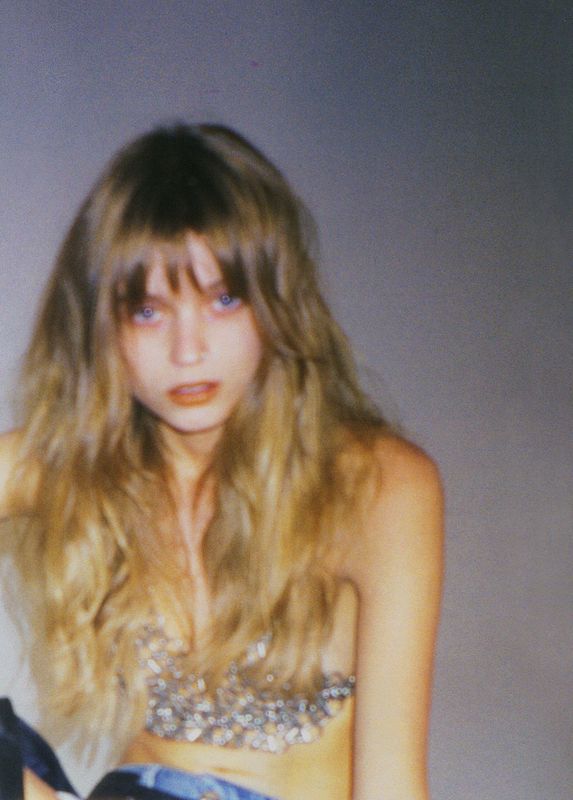 Abbey Lee on the poster that goes with the cover story. Haven't pulled it from the magazine yet, but a white wall is waiting for it already.
Haven't had time to read it all, haven't had time at all lately. But as soon as a few hours seem free ahead of us, we're going to spare them for POP whatever the pages will be. So, for now all we can talk about is the visual contents that fit for an entry on FDIB. Models remain our core-business and we're not going to change our direction and editorial line on a sunny Sunday afternoon after a busy week. Then let models in POP be the topic for a few minutes then let's take a little more time to go slightly off-topic (but you'll see there is nothing more on-topic than what we call off-topic). Abbey Lee Kershaw, first of all. Cover-girl of the issue and featured twice in the magazine. Abbey Lee is equally striking regardless of the atmosphere, of the story, of the styling. Abbey Lee who has never stopped surprising us since her international career was launched. So, could we even think of disagreeing with a magazine treating her as a contemporary icon of fashion modeling ? We'd love to lie just for kidding but the answer is clearly no.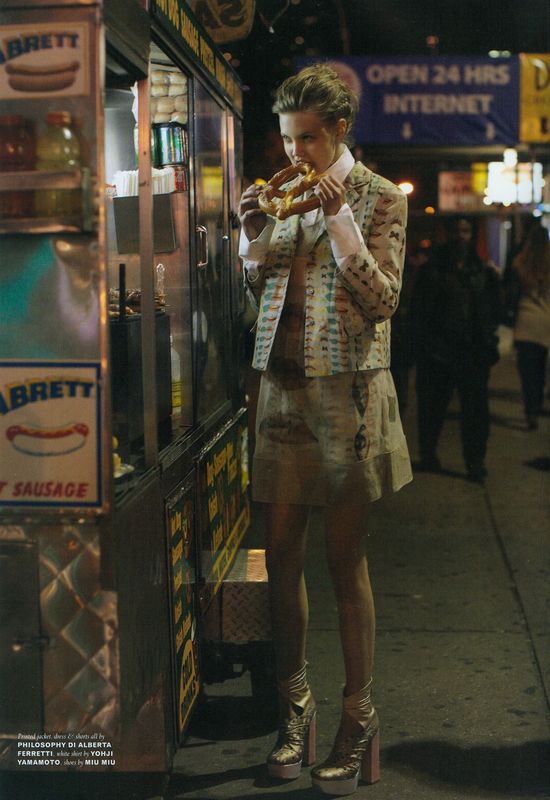 Lindsey Wixson @ Marilyn and her precious pretzel, shot by Paul Graham and styled by Vanessa Reid.
Next model (also with Next Models) that gets an extra bit of glossy paper in POP is Valerija Kelava. Supported her from day one and loved absolutely every editorial piece she was involved in. Making a career of her own with a look of her own, proving standards are always more or less wrong not being flexible enough. Not the tallest girl, not the most classical when everybody agrees that tall and classic are today's hits. Go, Valerija, as far as the wind will carry your career and keep proving them wrong. We all need to walk on the wrong lane, a little bit at least. Then Lindsey Wixson in what might be this issue's best story and appears to us as the epitome of POP Magazine's aesthetic. And visual synonym of pop, when pop culture becomes POP's culture. Lindsey biting a pretzel dressed in Philosphy, that's it and everything.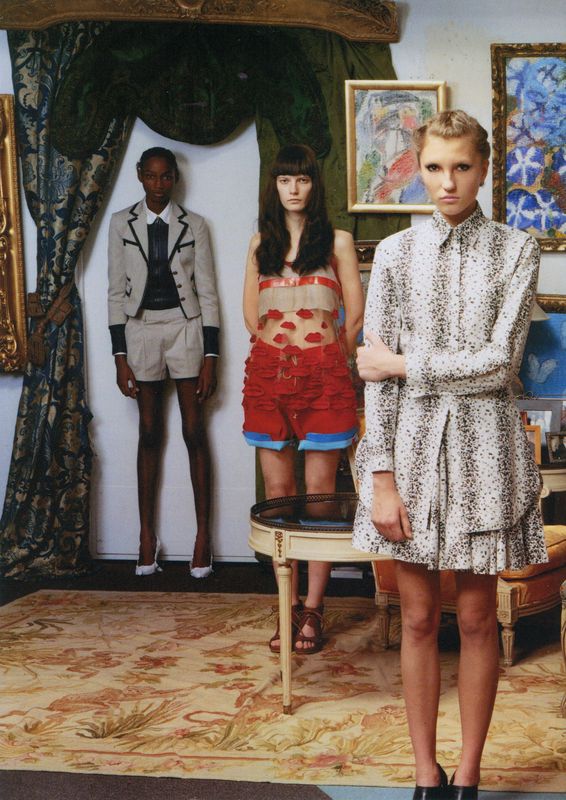 Shena Moulton @ Muse, Valerija Kelava @ Next and Urusla Konina @ Avant shot by Tina Barney, styled by Vanessa Reid
Last words on models featured in the magazine go to the bunch of fresh faces in that famous C.R.E.A.M. story. FDIB-favorites like Ursula Konina, Keke Lindgard, Marike Le Roux, Ranya Mordanova, Katya Kulizhka or Sharon Kavjian, next to amazing additions to the team that are Sedene Blake, Nicola Haffmans and Rasa Zukauskaite. And of course Valerija and Lindsey we longly talked about in the our previous paragraph. A few more girls, all remarkable actually but no time to keep dropping names (better buy the magazine, then or put it on your birthday wish list). Another story we'll remember as POP's new trademark.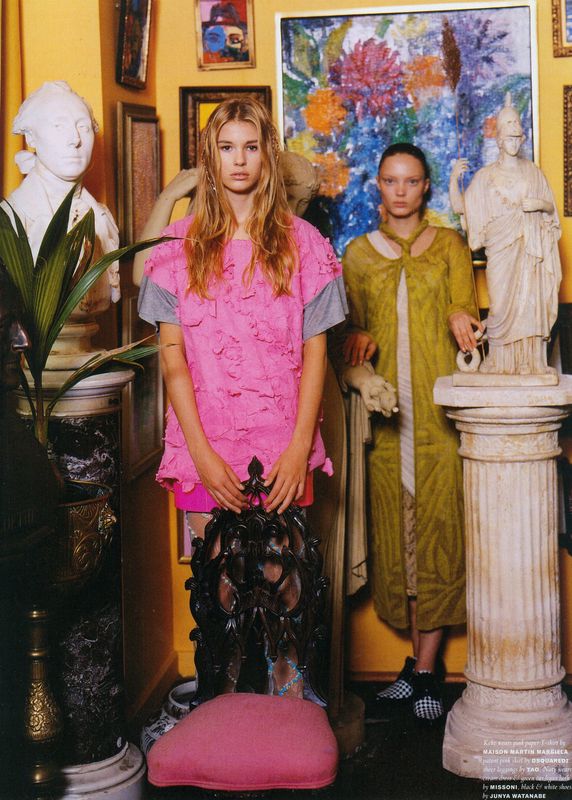 Keke Lindgard @ Wilhelmina and Naty Chabanenko @ Women also in POP C.R.E.A.M. story.
Let's go back to our title now. The choice of couse wasn't innocent and refers to the combination of a smart use of the online media and an exclusive masterpiece in bookstores. When you browse POP's website (thepop.com), what you will see might not that different from other magazine's webistes content but its concept goes beyond the usual boundaries of these blogs and sites. As the descriptions on the top of the page suggests it -- thepop.com is a multidisciplinary online platform for POP and its partners -- the site is built like a network with a main page featuring daily editorial picks and linking to contributors own pages at thepop.com (our favorite being uN nouVeau pOP iDEAL by Filep Motwary). What appears to us as particularly interesting in this concept is how it moves away from purely informative contents and more or less exclusive extras to the idea of creating an overall identity that turns into multiple identities. Not that it's totally new (actually, what is?) but it's the "detail" that build the magazine's and its website's images.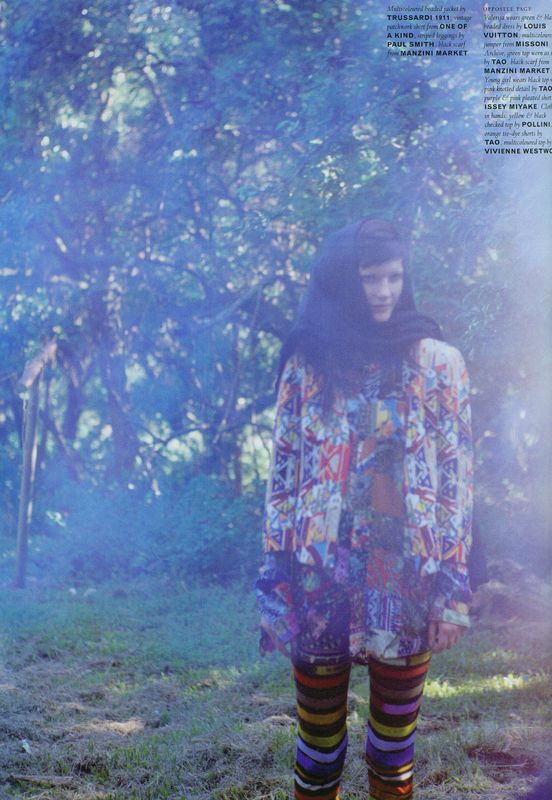 Valerija Kelava @ Next, by Mark Borthwick and styled by Vanessa Reid.
Where we see potential parallel lines is in how that concept could be translated into something similar to a model agency's site or blog yet how underused it is. Thinking of the agency as a brand that needs its image and identity, thinking of innovative ways to create this image. Some agencies might have already stepped into this way but it seems strictly limited to image-driven and influencial agencies in New York with only a couple outside -- yet still in fashion capitals like Paris, London, Milan. You certainly don't run an agency the same way you run a magazine but both are focused on and relying on their image. Even when what matters in the end is the agency's efficiency and proper results, the image is both a key ingredient in this process and a way to showcase these results. And, as we see it too often, showcasing doesn't mean piling up runway shots to show how much and how good the models walk during fashion weeks. Information goes through several channels and the main ones are known by absolutely everybody in the business. They know the sources and how to use them because on style.com, for example, you can go through the whole show, compare and make your own conclusions while a runway review on an agency blog only gives a partial, sometimes pointless overview of the season.
We also believe the future belongs to the mother agents who will manage to reinvent their role and place themselves on the map. May it be through the actual way they will work or the image they will be prompt to give. We wrote it in one of our earlier review, the mother agency seen as a model supplier isn't sustainable or relevant anymore, in high-fashion at least. What agencies in New York have been doing during the last few years (and we're not only talking about Supreme under Paul Rowland) is probably the next challenge mother agencies will have to face. Or to enjoy, because there are certainly reasons for them to cheer up about this image shift. And, yes, we definitely see some parallel lines there: similarities in how to keep a magazine attractive -- both online and in print -- and how to shape the future of model management, in big cities or small countries.
Commentaires
Poster un commentaire