04-12-10
This Ain't No Technological Breakdown, This Is The Road [...]
Pauline @ Marilyn (NY)
It was quite a hard task to find an editorial topic for the end of this week. Not that the materials were lacking, many things to put our eys on (then off) but was never easy to pick some visuals that go hand in hand with our current inspirations or states of mind. So, had to check and double-check, take ideas where we found them and adapt them to the current editorial pages we found interesting enough to show right now. And it's definitely the last part of the sentence that make sense. Everything (or almost, of course) can be or become interesting in some way, even with the smell of failure surrounding it when this happens but it all depends of the moment you look at it. Or let's say the moment really tells the (whole) story. Above: Pauline van der Cruysse for Bon Magazine (pictures thanks to teacakes @ TFS), by Amy Troost and styled by Naomi Itkes. Now, where is this road going to?
Melodie @ Wilhelmina (NY)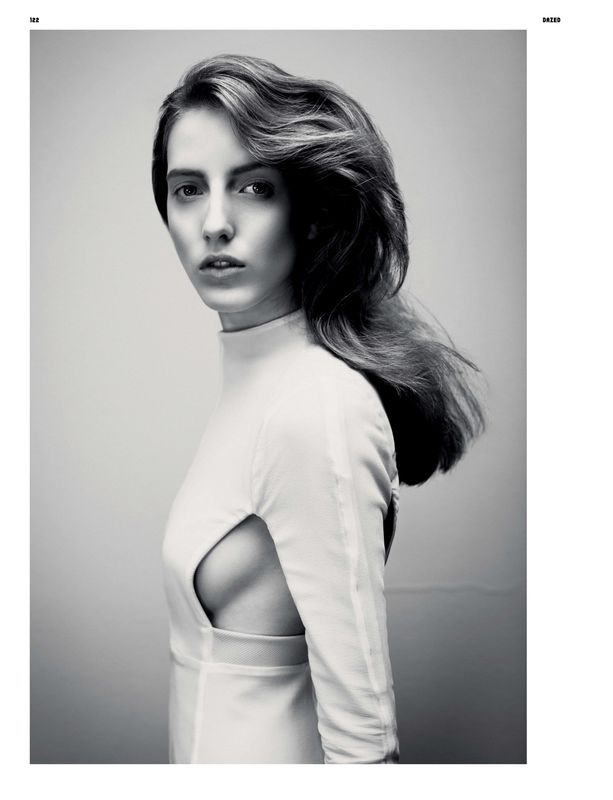 Iris @ Supreme (NY)
Finding the tone of the talk, tuning it with the pictures wasn't easy (but nothing is, right?) and you never know exactly how to place the limit between basic facts and pure feelings when it comes to photography as you're never completely neutral towards the style, the characters, the atmosphere. It always provokes thoughts or feelings as a viewer first then as someone involved in fashion one way or another. What ideas were born when seeing the magazine's pages for the first time, how they fast evolved in your mind as a person or a professional, what do they mean and how can they influence your own upcoming work at any level. Pure analysis should be banned since neutrality is a mistaken stance while daydreaming shouldn't take one hundred percent of your mental space either. There would be a lot to think about, a lot to show but what's left in the end if not just a biased impression floating in your head? As long as it doesn't get flooded the wrong way... Melodie and Iris for Dazed & Confused, latest issue, by Hugh Lippe and styled by Karen Langley. Still no one knows where this road is going to, but we can think of the sidewalk and go by foot.
Commentaires
Poster un commentaire