11-01-09
Inside and outside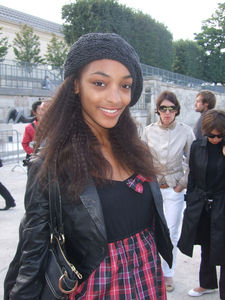 Anastasija Kondratjeva @ Elite (Paris), Jourdan Dunn @ Nathalie (Paris)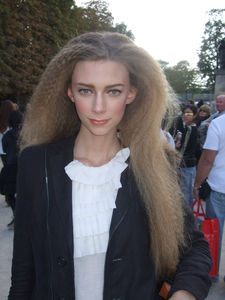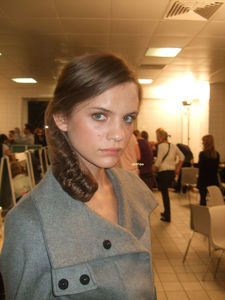 Kelli Lumi @ Major (Paris), Regina Feoktistova @ Nathalie (Paris)



Sophie Srej @ IMG (Paris), Zuzana Gregorova @ Viva (Paris)
A new season is going to start soon - for us, with Haute Couture in Paris and Berlin Fashion Week at the end of the months. NY shouldn't be late after then London, Milan and... Paris again. Makes us think time has come to feature a few girls we've seen last season there, taken by Jeremy K (jey47key). Time to refresh memories, make a little round-up of these girls have done since and think about our expectations for the weeks to come. We could have picked some pictures of Viktoriya Sasonkina or Angelika Kocheva too yet we're sure we'll have other opportunities to talk about them as they've being doing so well. So, stay tuned for more on these two very soon and let's concentrate on the six above for now.
And let's start with Anastasija Kondratjeva. First time we wrote on her was a bit before the shows started, introduced by her mother agency in Latvia (Vacatio Models). There was something special with her. Something incredibly sleek and soft hiding an enormous potential. Starting in NY (with New York Models) as a favorite of Max Azria (she walked for Hervé Léger and BCBG), seen at Erin Fetherston and closing her week at Calvin Klein. Her season was stuffed with some of our favorite castings. Armand Basi and Christopher Kane in London, Antonio Marras in Milan, Issey Miyake and Léonard (where this picture is from) in Paris. With already some precious Pre-fall appearances and a book filled with fantastic tests, our expectations for her are rising a little everyday. Might see her back ever sooner than soon.
Next is Jourdan Dunn and it's not necessary to introduce her again. No need to repeat all she's done so far. The list is long, the quality is higher and higher with each new piece. It might not be the most coveted spot of the year but we love the simple styling going right to its point: Jourdan's beauty and power, it was in (and on) french Elle and shot by Lee Broomfield (you can see the whole story here). Other recent works include Vogue Russia (by one of our favorite photographer, Matt Irwin), Vogue US and Vogue Paris calendar. Well, that's all marvelous but the real reason why we picked her for this post among more than hundred other girls is the way she shines so naturally. Taken after Christian Dior. We love how ridiculously stylish and delicate she looks without trying too hard. It would make the difference even without all these high profile bookings and it will probalby ensure her an even brighter future.
Kelli Lumi. We've never enough words. Never enough opportunities but we take every single one we have to feature her. The major girl from Major Paris was at Dior too, among other shows that are definitely worth to remember. On runways or in editorials, she's bringing the same energy whatever the styling or the atmosphere are. Dramatic yet definitely light-hearted, huge specialist of unforgettable smiles and eyes that are telling stories. We're always waiting for more. Even begging for more. We've recently featured her editorial by Ruven Vega and keep ready for the next one.
Regina Feoktistova is one of these models we're always glad to feature and feature again as we've been following her since her early days in the industry. From fierce, powerful gaze to a certain kind of versatility that made her an obvious choice for the less obvious collections and a real stunner in editorials, Regina has left quite a remarkable mark everywhere she went. We bet and hope it will continue. Best moments of the seasons were at D&G then even more striking at Léonard (see above, she couldn't look more Regina as on this one) and especially at Veronique Branquinho where we had the feeling she simply embodied the collection. Live and with an unforgettable soundtrack. On the editorial front, she caught our eyes in French Revue de Modes (which we bought during fashion week) and also italian issues of Marie-Claire (twice, by Laura Sciacovelli and Rennio Maifredi) and Elle.
Sophie Srej. We've been told to open our eyes. Was right before NY started. We've been said it will be "all about Sophie". It was right in some way, she had such a no-hole season wherever she went. After Calvin Klein, Marni, Missoni, Prada and Ann Demeulemeester (she was totally fitting the brand and the mood of the collection), we were lucky to see her - just for two minutes and a half between two shows - to take notice by ourself of how incredible she is. As expected as she was, the girl we've seen was totally unexpected. Sensitive look if it makes sense. Intellectual beauty. Delicate and raw mixed in one. We haven't seen much of her editorial work so far, excepted some promising ones by Chuando and Frey from her trips in Asia - leaving us with high hopes for the future and her polaroids were masterpieces in her book. Unexpected turn again, if you remember the first times when her porftolio only had a couple of too much polished tests. It's easy but it's true: Sophie is sophisticated. Or even sophistication.
Last but not least, Zuzana Gregorova. Was hard not to include her here and now. We already labeled her as one of the most busy girl a few months ago, her latest editorials seem to confirm this trend in her career. Even more busy, even higher level. Featured in both US and UK editions of Harper's Bazaar as well as in latest Wonderland. She might be one of these models who had the highest amount of articles here (after Viktoriya Sasonkina, of course) and our faith in her has remained equally strong from day one. What's coming next for Zuzana ? Only time will show. It's pretty hard to imagine her not doing well while on such a good slope. She's not even climbing, she's literally rising.
Commentaires
Poster un commentaire