12-01-09
Prada Talking feat. The Girl Who Sails Across The Wind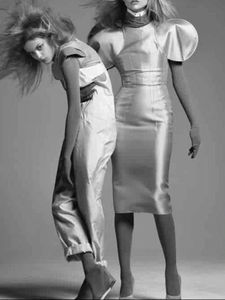 Viktoriya Sasonkina @ Women (NY)
Twice on the cover and thrice inside, she's a Vogue Italia girl who's hard to hide. Taking part of the Prada ads and Alberta Ferretti for the second time in a row. Building up her portfolio the same selective way she booked her shows, only the best ones and the best for her, where she'll hit the target eyes-closed. Well, better keep them open as they're a huge part of her appeal if not exactly what you can't overlook. One of our previous post on her was called "Eye-catching eyes" and we thought such a pleonasm wasn't too much to describe the power of her gaze.
Is she going to bite you ? What's going on behind this pretty face when she looks at the camera with these eyes ? Who knows. We can't give you the right answer and might even not take the risk to do it. All we know is what we feel. Is it reality ? No idea. No need to know. Pictures are what you see and what you feel when you see them, they're not even made to have any kind of universal meaning. Or at least we don't think so. And that's maybe where you will find Viktoriya's incredible power.
She's no devil, she's no doll, she's both and none of them. At the same moment, on the same picture. She's one of these faces able to bring intense emotion to a picture yet emotion you couldn't describe. No anger, no happiness. She's impish and innocent. She's fierce but funny. She's sensual not sexy. Some models are able to play many roles, to embody visions. Viktoriya seems to be Viktoriya everywhere. Never filling nor fitting the mold. Never hot, never cold. Ageless and timeless. Enough said. Maybe. Too much. Perhaps. Not enough. Why not.
Back to Prada. Back to the casting. Each has his favorite, each has his own star shining for him. Each has his own eye. Ours see Viktoriya. That's no surprise. Ours also see things they haven't seen before. Some feelings got strenghtened seeing this ad, some other appeared suddenly. Some words and some missing words. We haven't much to add on Ymre Stiekema, Sigrid Agren or Toni Garrn. They all did a good job but we have nothing to say other than well done. They definitely deliver. Our feelings towards Giedre Dukauskaite got stronger after seeing those. She looks like a whisper. She has a strong presence meanwhile she looks trapped in another world. Half away, half awake. Halfway to fierceness and innocence. Nimue Smit seems at the right place too. Playful. Giving some energy to the pictures, creating some movement. Action. Almost dancing with Toni or Ymre. Viktoriya's partner in crime ? Makes a lovely tea-time story. Last but not least Katrin Thormann. She looks so sensitive and her profile is heartbreaking. Her unexpected side. All seems unexpected in the most expected ad campaign. The girls are genius. And geniune. Merci Meisel.
Commentaires
Poster un commentaire